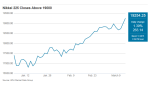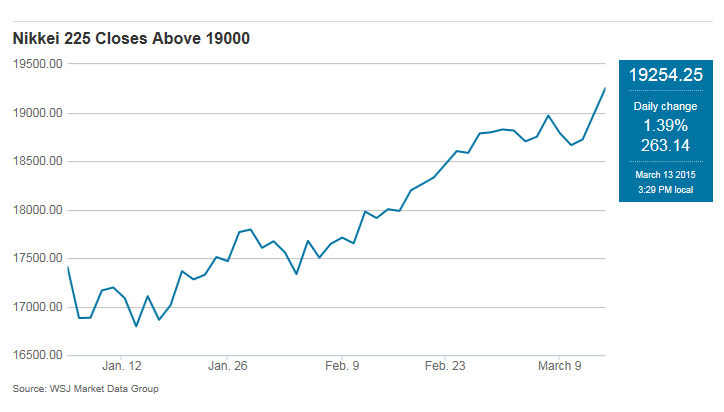 Nikkei hits 19,000
Date: Mar 12, 2015
Source: NHK World
The benchmark Nikkei index temporarily topped the 19,000-yen mark on Thursday. That's its highest level in nearly 15 years.
Investors bought a wide range of shares when the market opened on Thursday morning. In the afternoon session, the 225-issu Nikkei soared above the 19,000 level. The key index last hit that level in April 2000.
The Nikkei average index ended the day's trading at 18,991, up 267 points from the previous day. The broader-based TOPIX index was up by 20 points, closing at 1,546.
Many traders are seeing positive signs in Japan's economy. They expect firms to raise wages, giving more people confidence to go out spending. They're also pleased to see Japanese public pension funds plowing more money into domestic stocks.
Market watchers also forecast the bond-buying program in the eurozone will direct more cash into stocks.
---
Nikkei Stock Average Finishes Above 19000 Mark – Benchmark Index Sees Highest Close in Nearly 15 Years
Date: Mar 12, 2015
Source: The Wall Street Journal – By Brad Frischkorn
TOKYO—Tokyo stocks surged through the 19000 level Friday, as a strong buying appetite from pension funds and other investors helped push the market's current winning streak to five weeks.
Analysts now see the 20000 mark as the next milestone for the Nikkei Stock Average, which is currently leading all major Asian markets with a 10.3% year-to-date gain.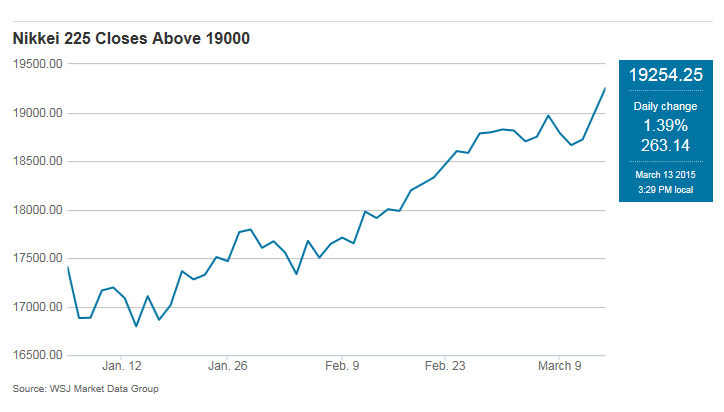 On Friday, the Nikkei added 1.4% to 19,254.25, its highest closing mark since April 14, 2000. For the week, the index added 1.5% for its fifth straight weekly gain and longest winning streak since June.
Trading volume hit a year-high 3.2 billion shares.
Stocks benefited from a powerful overnight rally in U.S. shares on the back of passing grades for 29 of 31 banks on stress tests administered by the Federal Reserve.
"Underlying buy support remains strong—especially from domestic institutions, defying high valuations," said Toshihiko Matsuno, senior strategist at SMBC Friend Securities. "With the changes to asset allocations at major investors such as the Government Pension Investment Fund and others to favor more equity exposure, the market looks like it's on a path to 20,000."