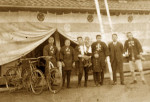 Top 10 Japanese companies over 800 years old
Date: Aug 17, 2013
Source: Preston Phro
As you're probably aware, Japan has quite the lengthy history, stretching back thousands of years. And, as with any civilization, ancient Japan had need of commerce, which lead to the establishment of some of the oldest companies in the world.

Today, we bring you a list of our 10 favorite ancient Japanese companies. From sake to mountain-side inns to Buddhist temple construction companies, there's something here for everyone!
Obviously, when compiling a list of companies that have existed for longer than many nations, it can be a bit difficult tracking down concrete details. While it may seem counter-intuitive, new details are likely to emerge at any time. In fact, one business on this list, Hotel Keiunkan, suddenly jumped up to being the second oldest company in the world in 2011, after providing the Guiness Book of World Records with new proof.
Additionally, Japan easily dominates the list of oldest companies in the world–taking the top five spots. It may be because of the relative stability and lack of invaders throughout much of the country's history that so many businesses have lasted so long, though it's hard to say for sure.
Alright, enough chit-chat, here's our list of the top ten old companies in Japan!
---
List of oldest companies in the world
According to a report published by the Bank of Korea on May 14, 2008 investigating 41 countries, there were 5,586 companies older than 200 years. From these 3,146 are located in Japan, 837 in Germany, 222 in the Netherlands and 196 in France. 89.4% of the companies with more than 100 years of history are businesses employing fewer than 300 people. A nationwide Japanese survey counted more than 21,000 companies older than 100 years as from September 30, 2009.
This list of the oldest companies includes brands and companies, excluding associations and educational, government, or religious organisations. To be listed, a brand or company name must remain, either in whole or in part, since inception.
Check it our listed old companies here ».