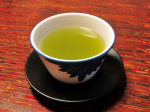 Japanese doctors: Green tea may prevent dementia
Date: May 15, 2014
Source: NHK World
Japanese researchers say senior citizens who often drink green tea are less likely to develop dementia. A research team led by Professor Masahito Yamada of Kanazawa University surveyed 723 people 60 years or older who do not suffer from dementia. They asked how frequently the respondents consume green tea.

The team followed up with another survey 5 years later, examining the 490 people they could track down. Among the 138 respondents who do not consume green tea at all, 43 of them, or 31 percent, had been diagnosed with dementia or its early stage, mild cognitive impairment.
The researchers found that among the 195 people who drink green tea between 1 and 6 times per week, 29 of them, or 15 percent, had received the same diagnosis.
Among individuals who consumed green tea every day, the incidence of overall cognitive decline was 11 percent.
The researchers say green tea consumption is widely associated with reduced risk, citing high concentrations of polyphenols, such as catechin and myricetin, which can prevent cognitive decline.
---
Research Article
Published: May 14, 2014 – DOI: 10.1371/journal.pone.0096013
Consumption of Green Tea, but Not Black Tea or Coffee, Is Associated with Reduced Risk of Cognitive Decline
---
---