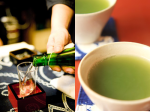 Japanese sake and green tea are rapidly growing in the markets of the world
Source: JETRO Japanese Food Exports
Exports of some Japanese foodstuffs are increasing
In Japanese food industry, exports of certain commodities have increased conspicuously. Chief among these are Japanese rice wine (refined sake) and green tea. Chief among these are Japanese rice wine (refined sake) and green tea. In 2011, exports of Japanese sake reached record levels both in terms of volume and value. Exports of green tea, meanwhile, reached their highest level since 1989 (again, in terms of both volume and value), marking a bright spot for the nation's food industry. When compared with the worst years in the past ten years for exports of the two products and 2011, exports of sake points to a 99% increase over 2001 in volume to 14,000 kiloliters and a 175% increase in value to 8.78 billion yen, while exports of green tea are up by 276% over 1989 to 2,387 tons, and the full value of green tea exports has soared by 1,310% to 4.72 billion yen (see Figures 1 and 2).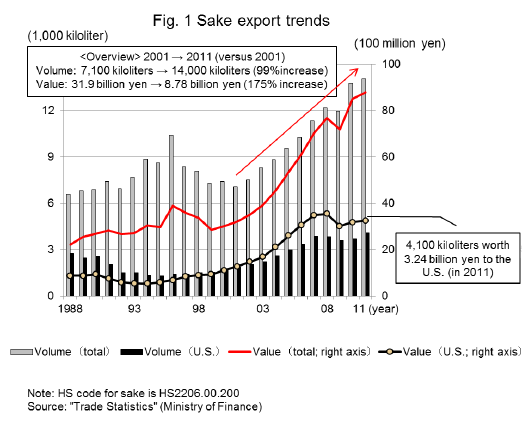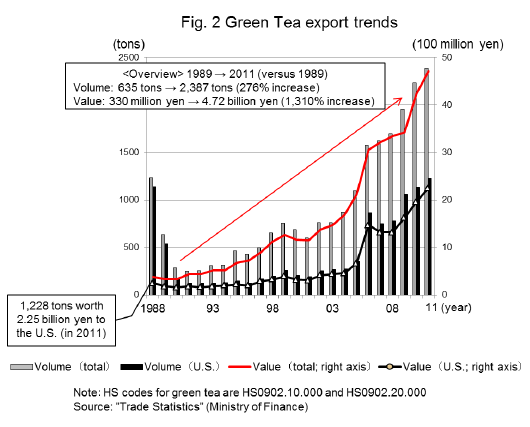 Of note was a marked tendency towards the premium grades: daiginjo, ginjo and junmaishu among exports of Japanese sake to the United States and Hong Kong — the leading export destinations for this commodity in 2011. Japan's sake breweries have developed promotions for U.S. buyers that highlight the extensive knowledge and/or stories concerning the characteristics of the brand or the history of the brewery. and imports of premium sake have grown as a result.
In Hong Kong, consumption of sake and wine has increased following the removal of all duties on liquor (all liquor with an alcoholic strength of not more than 30% by volume) introduced in 2008. Locally brewed boutique sake has gained a following among wealthy people of Hong Kong and this is boosting consumption of premium grade sake in the territory. There has been an exponential increase in value of Japanese sake exports to Hong Kong, which climbed 21.4% to 1,529 billion yen year-on-year basis in 2011.
Many countries are also looking at Japanese green tea. In the United States, the leading importer of green tea. the consumption of Japanese green tea is growing on the back of the increase in the number of Japanese restaurants, the sales expansion of green tea at major grocery store chains, and the sales of green tea/matcha (powdered green tea)-flavored beverages at chain store cafes. There has been a marked increase in the value of high-end green tea exports, which are prized for their quality, and hi 2011 totaled 2,252 billion yen (14.7% up over the preceding year). High quality, high price sake and green tea products are thus a growing business for Japan's exporters.
Government introduces 1 trillion yen food export target
The Japanese government has introduced a policy that aims to promote joint public-private sector initiatives intended to support producers of agriculture, forestry, fisheries and food products in their efforts to develop overseas markets, in line with its goal to increase the value of Japanese food exports to 1 trillion yen by 2020. The government is expecting JETRO to make a major role. In January 2012, JETRO set up the Headquarters of Export Activities of Agriculture, Forestry, Fisheries and Food, and concerted efforts are being made to expand overseas markets for these products. To give a specific example of JETRO's activities in this area, the organization hosts seminars in many places throughout the country to increase business operators who are interested in exports. It supports local business operators to participate in major food industry trade shows, such as SIAL China 2012 in Beijing, or extends invitations to foreign food buyers to Japan. The SIAL China 2012 trade show of May 2012 was the first industry event at which JETRO had participated since the nuclear accident in March 2011. The Japan pavilion was packed primarily with Chinese buyers throughout the event, providing fresh evidence of the demand for Japanese foods in China.
In addition. in June 2012. JETRO released a request to the government as a five-point policy proposal regarding the support for exports of agriculture, forestry, fisheries and food.
Japan's agriculture, forestry. fisheries and food-related businesses will continue to face challenges, including the ongoing strength in the yen, which need to be overcome in order to promote exports of these products in 2013. In a questionnaire survey targeting domestic businesses directly engaged in, or businesses interested in, the agriculture, forestry, fisheries and food industries undertaken by JETRO in 2011, whether they were affected by the nuclear accident or the strong yen, 90% of the former and 80% of the latter were the answers. At the same time, however, more than 90% stated that they would "continue exporting." suggesting that Japanese food retailers and producers remain positive towards the business prospects offered by overseas markets. The strong enthusiasm of Japanese food businesses and other interested parties with the support of the government holds possibilities to create an increasingly rosy picture for 2013.
---
Please check the drink products