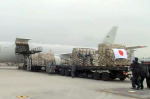 SDF plane takes off with gear for Ebola fight
Date: Dec 5, 2014
Source: NHK World
A Japanese Air Self-Defense Force aircraft has left for Ghana to transport protective clothing to help West African countries fight the Ebola epidemic.
A departure ceremony was held at the ASDF's Komaki Air Base in Aichi Prefecture on Saturday morning with a speech by the task force commander, Major General Sakari Nonaka.
Nonaka said the ASDF will fulfill its mission to contribute to efforts to fight Ebola as a member of the international community.
A short while later, a KC767 aircraft took off carrying 20,000 sets of protective gear supplied by the Japanese government.
The plane is scheduled to arrive in Ghana on Monday morning. From there, UN workers will transport the gear to countries affected by the disease.
The clothing will be delivered through a UN agency to doctors and other healthcare workers treating Ebola patients in Guinea, Liberia and Sierra Leone.
The Japanese government is planning to eventually provide 700,000 sets of protective clothing. It will use commercial aircraft to send the remainder.