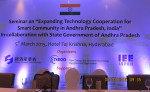 AP woos Japanese companies to build smart communities
Date: Mar 5, 2014
Source: The Dollar Business – by Sai Nikesh
The Government of Andhra Pradesh has sought Japan's co-operation for developing a world class capital like Tokyo, and also for better cooperation in sectors like energy, infrastructure and industrial development.
The Confederation of Indian Industry (CII) on Thursday organised a day-long Indo-Japan seminar on 'Expanding Technology Cooperation for Smart Community in Andhra Pradesh'.
The event was attended by more than 30 Japanese delegates and 100 participants from Japanese energy companies. The participants discussed various aspects on building cooperation between the Government of Japan and the Government of Andhra Pradesh to develop infrastructure in the newly formed State.
The Japanese delegation and the Andhra Pradesh government announced to take steps to ensure better mutual cooperation in areas of building smart infrastructure and smart community, aimed at developing world class infrastructure for the State.
Giving details of Japanese investment interest in the State, Ken Sasaji, Executive Director, Ministry of Economy, Trade and Industry, told The Dollar Business, "Besides other Indian States, Andhra Pradesh is exceptional for making investments and its fast bureaucratic procedures, easy land-related clearances for setting up industries and a better energy infrastructure scope, make it a better place for investments."
In this regard, the Japanese government wishes a strong industrial cooperation with the State Government, the Japanese official added.
He also expressed hope that the Japanese companies in coordination with the State government and its companies will deliver a well-developed smart capital for the State.
On Indo-Japan overall trade cooperation, the Japanese official said the Japanese government is ready to work with India under 'Make in India' policy and also sought an incentivized tax structure, along with a better business environment in India to facilitate Japanese investment.
The Japanese minister also called for a transparent defence framework to ensure stronger defence cooperation between India and Japan. Japan is looking at doubling its FDI in coming five years, he added.
The Japanese Minister also expressed happiness over the outcome of the seminar and exuded confidence saying, 'this first-ever seminar on smart community between Japan and Andhra Pradesh would definitely provide a better scope for both the governments in achieving a stronger cooperation in key sectors like infrastructure, manufacturing, agriculture and food processing.
Meanwhile, PricewaterhouseCooper Director (PPP and Infrastructure Centre, Japan) Sanjeev Sinha told The Dollar Business, "Food, land and water are the three entities that are enabling a better and positive connection between the Japanese and the Andhra Pradesh governments."
The official further said that there is a need for the State to concentrate on its abundant rare earths, as it would help the state's electronic sector in times of collaboration with Japan for electronic product manufacturing.
Speaking at the event, the Chief Minister of Andhra Pradesh N Chandrababu Naidu explained the delegation, the scope for larger development in the state and called the Japanese delegation to make investments in the region.