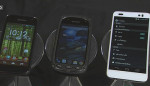 Smartphone makers introduce unique features abroad
Date: Apr 30, 2014
Source: NHK World
Japanese electronics manufacturers are trying to overcome sluggish domestic sales by introducing smartphones with unique features abroad.

Fujitsu plans to expand overseas sales of a model originally designed for the elderly in Japan. It began selling the phone in France last year.
In April, Kyocera began selling a model in Thailand that uses the phone's case — not just a speaker — to convey sound over background noise.
The device was previously introduced in Japan and the US. Kyocera is aiming to offer it in other markets, including South America, from next year.
Panasonic plans to launch a highly water-resistant smartphone in the US and Europe. The device was originally developed for the Japanese market.
A private research firm says shipments of smartphones in Japan declined 3 percent last year compared to 2012. Manufacturers are apparently betting that unique features will create new demand in fast-growing emerging economies.