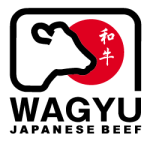 Japanese WAGYU – Genuine Wagyu Beef
Source: JNTO and Ministry of Agriculture, Forestry and Fisheries
One of the excellent examples of Japanese foods is "Wagyu" Japanese beef. The high prime beef is so tender that it almost melts in your mouth. Raised and processed under strict government control, "Wagyu" Japanese beef will add color to your healthy and enjoyable dietary lifestyle. Wagyu offer tasty, high prime beef that you can enjoy with complete assurance of its safety.
Wagyu is a type of high-class beef that is currently garnering popularity on a worldwide level. President Obama saying that he wanted to try Kobe Beef (a type of Wagyu brand) when he came to Japan is now a famous episode. Wagyu brands have a thoroughly controlled bloodline and is raised with extreme care to produce a tender, melt-in-your-mouth, unique flavor and texture. In Tokyo, high level Wagyu can be enjoyed in specialty eateries like sukiyaki and steak restaurants. And regions all over Japan serve brands of beef raised in that region. Enjoy the incredible flavor of Wagyu, another famous type of Japanese food alongside sushi.
What is WAGYU
Wagyu refers to limited meat brands such as Japanese Black, Japanese Brown, Japanese Shorthorn, and Japanese Polled. Within these types, the highest grade of Wagyu is cattle born and raised in Japan. Raising cattle carefully using special methods produces a delicious Wagyu flavor.
One of the characteristic features of Japanese Wagyu is its texture. The meat quality of Wagyu is such that fat is woven finely like a net throughout the muscle. This is called "marbling." It creates a tender texture that feels like each bite is melting in your mouth. Another characteristic feature is the aroma. Beef from Japanese Wagyu raised in an environment abundant in natural elements condenses its sweet and full, mellow aroma. It is thought that cooking styles unique to Japan using thinly sliced meat strips like sukiyaki and shabu-shabu were created in order to get the most enjoyment from these features.
Quality
Smooth velvety texture, juicy flavor, delicate but rich taste will linger on the palate. These unique characters are created by the large proportion of amino acids (the basis of its umami or savoriness) and unsaturated fat.
In addition, "marbling" affects its taste. They has especially valued marbling on beef as a symbol of high quality so that it is the key to grade beef. However, the marbling fat in the beef is never too rich. Indeed, it will almost melt in your mouth as you put the piece in your mouth. The marbling is the evidence that cattle have been specially raised in the vast, lush wilderness using carefully selected feed, pure water, and clean air.
Breeding Environment
Japanese cattle farmers have selectively bred their cattle for hundreds of years to produce today's extremely tender and delicately flavored "Wagyu" Japanese beef.
Cattle farmers follow government guidelines and raise their cattle with tender loving care. Calves are registered with the government soon after they are born. This registration system enables cattle farmers to trace the ancestral lineage of each registered calf.
In order to produce healthy and safety beef, health control of cattle is very important. Cattle farmers pay special attention to hygiene in the cattle paddocks by maintaining adequate ventilation and water supply. Appropriate feed management is also essential for cattle's health so that farmers carefully manage it. "Wagyu" cattle are carefully brushed to improve its blood circulation and to keep its coat in good condition.
Cattle farmers are making efforts to take these special cares every day to raise cattle in healthy and comfortable environment and to ensure people's healthy and safety dietary lifestyle.
Special Production Techniques
Special techniques are used in the production of Japanese Wagyu. In order to protect cattle bloodlines, breeding is thoroughly controlled. All calves born from this process are affixed with an individual identification number and information like the date of birth, bloodline of the parents, and place of birth is recorded.
At the commercial cattle farms where they are raised, special attention is given to creating an environment where the cattle can live comfortably. This is because keeping them from feeling stress gives the beef a tender quality. Farmers take special consideration of health conditions when selecting their feed, grazing them on high-grade rice plants, wheat, and hay. The sheds are cleaned every day, and these sensitive animals are given clean places to live stress free lives. They spend their days pleasantly in spacious ranches abundant in clean water and fresh air. The best meat quality comes from the loving care of the farmers and a style of raising that pays attention to all of the small details.
Type of Wagyu (Wagyu Brands)
A wide assortment of Wagyu brands are raised in regions all over Japan, creating a delicious selection of Wagyu beef from various areas. Below is information on particularly noteworthy Wagyu brands from ten regions.
Very famous Wagyu are Matsusaka Ushi, Kobe Beef, and Ohmi Beef cattle raised in the Kansai region of Japan. All three of these Wagyu types start out as Tajima Beef cattle born in Hyogo Prefecture, but are taken in as calves by commercial cattle farmers in other regions. They take on the names of Matsusaka Ushi, Kobe Beef, or Ohmi Beef depending on the region of the commercial cattle farm where they are raised.

Wagyu Official Logo
Wagyu refers to specific breeds and its cross breeds of beef cattle originated from Japan. These breeds have been selectively bred for a hundred year by Japanese beef cattle producers and breeding agencies. Japanese cattle producers are very proud of Wagyu as their prized cattle.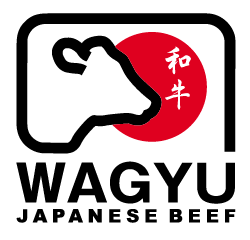 Now, Japanese Wagyu beef is incomparable in its quality and taste to any other beef in the world. Only beef from a "genuine Japanese Wagyu" with a pedigree of the cattle born and raised in Japan can bear this mark. This mark will help you to select tasty "genuine Wagyu beef".