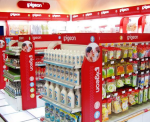 Japan's baby goods giant Pigeon sees record profit for fifth year on overseas success
Date: Sep 7, 2014
Source: Nikkei – by TSUYOSHI MINAMI
TOKYO — Pigeon, one of Japan's top makers of baby products, is expanding to the Middle East and Africa in addition to growing its existing markets in Western countries and Asia.
The company is expected to post a record group net profit for the fifth consecutive fiscal year, which ends next January. The focus now for investors is whether Pigeon can keep this up and if its ambitious overseas plans will succeed.
In mid-July, Pigeon President Shigeru Yamashita was in the state of Uttar Pradesh in India. He was visiting a nursing bottle production plant being built on an about 10,000-sq.-meter site at an industrial park. Pigeon has spent roughly 1 billion yen ($9.41 million) on the plant. It is scheduled to start operations in January.
Annual sales in India are less than 1 billion yen, but Pigeon aims to increase this to 1.7 billion yen by the year through January 2017. The company has built a network of 7,000 pharmacies to sell its products.
"We want to succeed in India, which has a growing population," Yamashita said.
Where the babies are
Japan's birthrate is dropping, but Pigeon is using its experience in Japan to advance overseas, especially in countries that are seeing population increases. These include China, India, Turkey and Malaysia, all of which Pigeon has focused on in the past decade. Its overseas sales ratio has risen to 50% in the business year through January 2014, from 34% in fiscal 2008. The company plans to increase this to 57% by the year through January 2017.
Much of this boost has come from China, especially in sales of baby wipes, nursing bottles and nipples. With China's one-child policy, most parents tend to spend a lot of money to raise their only child. The company has worked to build a high-class brand image, such as by having dedicated selling space at large stores. It also chose not to use Japanese models in its store promotional materials, so as not to distinguish it from major Western baby product makers.
Pigeon sells its products in dedicated selling spaces not just in the top markets of Beijing and Shanghai, but also in major interior cities, such as Chongqing and Chengdu. The company is also focusing on selling its products to the Internet-savvy younger generation by having sales campaigns on Amazon.com in China.
The company plans to use its success in China to build up its other overseas operations. It plans to increase overseas sales by 49% to 57.3 billion yen in three years, compared with the year through January 2014.
---
Pigeon Corporation