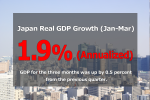 Japan's Jan.-March GDP upgraded to annual 1.9% rise
Date: 6/8/2016
Source: Kyodo News
TOKYO (Kyodo) — Japan's economy grew an annualized 1.9 percent in the January-March period in inflation-adjusted terms, an upgrade from preliminary data as corporate capital spending fell less than initially thought, the government said Wednesday.
The expansion in real gross domestic product, the total value of goods and services produced domestically, corresponded to a 0.5 percent increase from the previous quarter, the Cabinet Office said.
The government said in a preliminary report on May 18 that the world's third-largest economy grew an annualized real 1.7 percent in the quarter.
The revised GDP data came days after Prime Minister Shinzo Abe announced his decision to delay a scheduled consumption tax hike that could hurt domestic demand and to revive the economy instead.
The Abe administration and the Bank of Japan have been encouraging companies and consumers to spend more to pull Japan out of deflation.
Corporate capital spending dropped a revised 0.7 percent, much smaller than the 1.4 percent fall in the preliminary report.
Consumer spending, which accounts for around 60 percent of GDP, was revised up to a 0.6 percent rise from a 0.5 percent rise.
Exports increased 0.6 percent, unchanged from the preliminary data while imports fell 0.4 percent, compared with a 0.5 percent drop.
Public investment was down 0.7 percent, revised downward from 0.3 percent growth.
In nominal terms, or unadjusted for price changes, the economy grew 0.6 percent on a quarter-to-quarter basis, up from a gain of 0.5 percent.