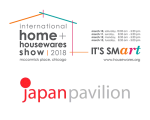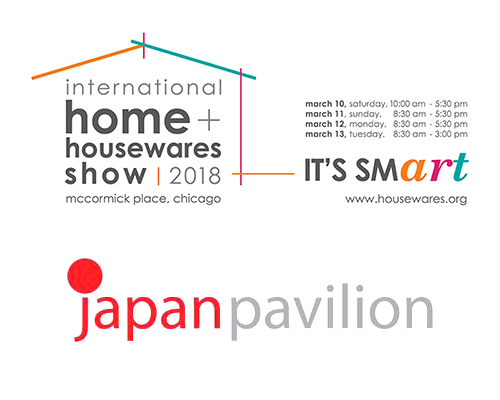 JETRO Presents 12 Japanese Companies in Two Pavilions at 2018 International Home + Housewares Show
Date: Mar 01, 2018
Source: JETRO (Japan External Trade Organization)
CHICAGO – JETRO (Japan External Trade Organization), the organizer of the Japan Pavilion at the International Home and Housewares Show (IH+HS), is pleased to introduce the best of Japanese design and innovation for the seventh time at the world's premier housewares show, at Chicago's McCormick Place from March 10-13.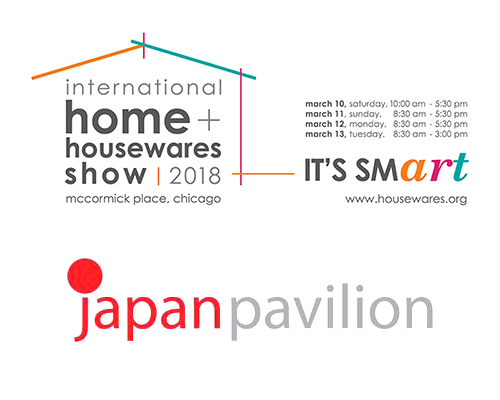 There will be 12 companies, including 5 new participants represented in two Japan Pavilions.
Companies list in the North Building:
WAHEI FREIZ CORPORATION (N7941)
KIRIHARA WORKS & DESIGN (N7942)
SAN-EI FAUCET MFG. CO., LTD. (N7943)
MacMa Co., Ltd. (N7945)
SUNLIFE CO., LTD. (N8041)
PRAIRIE DOG CO., LTD. (N8042 & N8043)
NIHON CLEAN-TECH Co., LTD. (N8045)
Companies list in the South Building:
AISEN INDUSTRIAL CO., LTD. (S868)
Kodai Sangyo (S869)
PEARL METAL CO.,LTD. (S968)
Ginpo Co., Ltd. (S969)
Seki Kanetsugu (S970)
This is the sixth time that JETRO will organize two pavilions in order to accommodate the exhibitors and the vast array of products they have to offer. Visitors to both pavilions will be able to view firsthand, a variety of "Made in Japan" items of the highest quality that are also design focused, smart, and eco-friendly. Products include quality kitchenware, environmentally friendly wooden products, user-friendly cleaning tools and more. Advanced Japanese technology is applied to bring you eco-friendly, stylish, smart gadgets and housewares.
These exhibitors are eager to introduce the best of Japanese design and innovation to US buyers. To view the exhibitors' products in greater detail, and to make appointments with them prior to the show, utilize Housewares Connect 365 on the show's website at: http://goo.gl/i05Kdg
DISCOVER DESIGN EXPO (North Building)
The North Pavilion (N7944) will feature unique design focused products. These exhibitors are carefully selected by the industry professionals. Products featured include: Multi-purpose frying pan, specially designed 3-D frames, sleek bathware, quality teaware, traditional chopsticks, eco-friendly bags, and stylish cleaning products.
DINE + DESIGN EXPO (South Building)
The South Pavilion (S870) will feature products including Artisan knives designed to retain longer sharpness, User-friendly kitchenware, ceramic casserole, quality wooden kitchenware with a focus on comfort and coziness, and functional cleaning tools.
International Home + Housewares Show
The International Home + Housewares Show is the world's premier housewares marketplace, features more than 2,200 exhibitors from more than 45 countries, and more than 56,000 attendees from over 130 countries around the world.