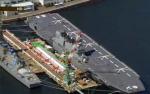 JSDF's largest destroyer Izumo commissioned
Date: Mar 25, 2015
Source: NHK World
Japan has commissioned the Self-Defense Forces' largest destroyer, the Izumo. A ceremony was held on Wednesday at a pier in Yokohama City, near Tokyo, to mark the handover of the vessel from its manufacturer to the Maritime Self-Defense Force.
The 250-meter helicopter destroyer displaces 19,500 tons and boasts a flight deck as large as that of an aircraft carrier. It can handle takeoffs and landings of 5 helicopters at the same time.
Japan spent about one billion dollars to build the vessel. Smaller vessels of the same type are already in use to train helicopter pilots, and can accommodate the US military's Osprey transport aircraft.
The deck of the Izumo is shorter than that of a US aircraft carrier but is almost as long as an Italian carrier. US aircraft carriers have flight decks of about 300 meters.
The Japanese Defense Ministry does not plan to use the vessel for fighter aircraft. It says therefore the vessel is not considered to be an attack aircraft carrier, which the government says would be incompatible with its nonaggressive defense policy.
The vessel will be deployed at a port in Yokosuka City, south of Tokyo, and used for surveillance and other missions after about 6 months of sea trials.
---
New Izumo-class carriers to greatly boost Japan's force projection
Date: Oct 26, 2014
Source: Defense Update
The new Izumo-class helicopter carrier is undergoing extensive sea trials since late September, in preparation of the acceptance of the new carrier by Japan's Self Defense Forces Navy.
JDS Izumo helicopter carrier is the first of two 30,000 ton (full load) Izumo-class 'helicopter carrier destroyer' (DDH) class vessels to be commissioned next year. Unveiled last month at the Yokohama port, south of Tokyo, JS-183 Izumo, is the biggest warship in Japan's fleet since World War II, has been described by the Chinese media as an "aircraft-carrier in disguise". Although the is configured with a large flight deck and hangars, designed to accommodate up to 28 helicopters, Izumo does not have catapults or arresting cables nor a 'ski jump' curved deck, assisting short take off of conventional aircraft. The Japanese Navy is highlighting the vessels' ability to quickly respond to emergency or natural disasters.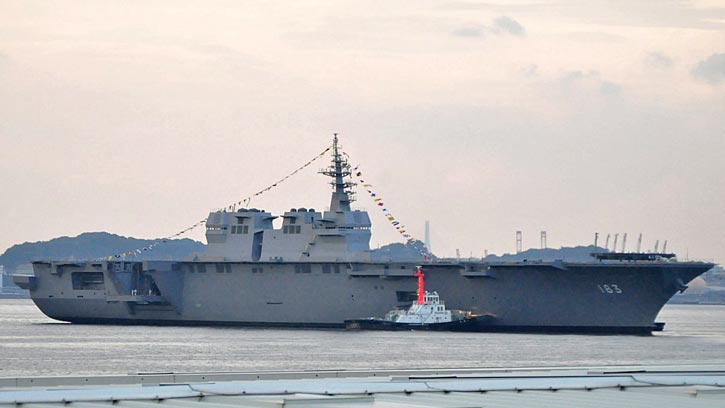 The construction of the first ship of the class began in 2011 at an IHI Marine United shipyard in Yokohama, at a cost of $1.5 billion (113.9 billion yen). Commissioning of the first of class is currently scheduled for 2015 with the second ship of the class, yet unnamed, to follow in 2017.
Once commissioned, these Izumo-class vessels will more than double the current anti-submarine, anti-ship, and amphibious assault capabilities of the Chinese Navy, over the current force consisting of two helicopter carriers, operating the Shirane-class helicopter carrying destroyers, accommodating 9-10 helicopters. Those vessels are planned for decommissioning soon.
The Japanese navy also operates two 20,000 ton Hyūga-class helicopter destroyers – Hyūga and Ise, commissioned in 2009 and 2011. Each is configured to carry up to 18 helicopters. These vessels typically operate three SH-60K and one MCH-101 mine sweeping helicopters. Hyūga class carriers are also equipped with Mk 41 VLS common launcher, armed with ESSM anti-air and ASROC anti-submarine weapons. Izumo class has more sensors and electronic warfare assets, designed for anti-submarine warfare and border-area surveillance missions, its self-defense capabilities are limited to close-in weapon systems (CIWS) such as the PHALANX and SEARAM.
---
Izumo-class helicopter destroyer
Source: Wikipedia
The Izumo-class helicopter destroyer (いずも型護衛艦 Izumo-gata-goei-kan) or 22DDH is a type of new helicopter carrier class being constructed for the Japan Maritime Self-Defense Force (JMSDF). The ships of this class will be the largest surface combatants of the JMSDF, taking over the mantle currently held by the Hyūga-class helicopter destroyers. The lead ship was officially unveiled at Yokohama on 6 August 2013.
The Japanese Ministry of Defense (MOD) first announced plans for the class on 23 November 2009. This ship's primary mission is anti-submarine warfare (ASW) but peacekeeping and disaster relief operations are also being considered.
This ship could possibly carry up to 28 aircraft. However only 7 ASW helicopters and 2 search and rescue (SAR) helicopters are planned for the initial aircraft complement. For other operations, 400 troops and 50 3.5 ton trucks (or equivalent equipment) can also be carried. The flight deck has 5 helicopter landing spots that allow simultaneous landings or take-offs. The ship is equipped with 2 Phalanx CIWS and 2 SeaRAM for its defense. The destroyers of this class were initially intended to replace the two ships of the Shirane class, which were originally scheduled to begin decommissioning in FY2014.