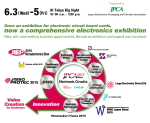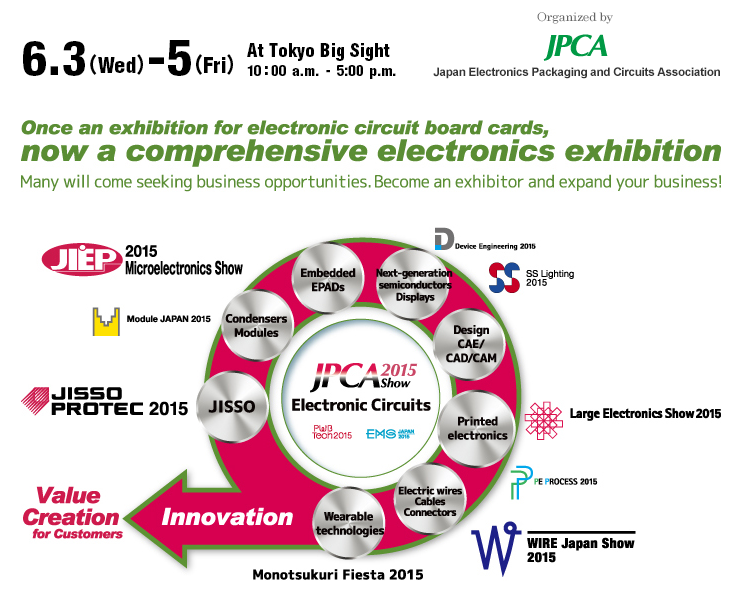 JPCA Show 2015 – 45th International Electronic Circuits Exhibition 2015
Date: June 3(Wed)-5(Fri), 2015
Hours: 10:00-17:00
Venue: Tokyo Big Sight, Japan
Organiser: Japan Electronics Packaging and Circuits Association
Contact: show@jpca.org
Phone: +81-3-5310-2020
Official Website: www.jpcashow.com/show2015/en/
JPCA Show 2015, 45th International Electronic Circuits Exhibition 2015 is the noteworthy event on Electronic Circuits, Electronics, Electronics Industry and Electronic Packaging topics.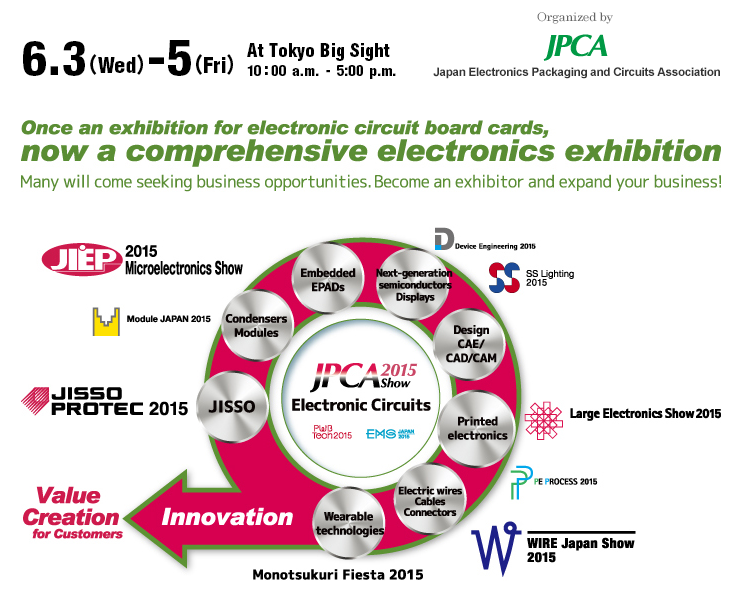 The objective is to contribute to the advancement of the electronic circuit industry and all related fields by presenting an exhibition of products, knowledge and solutions related to the electronic circuits and packaging technologies used in all electronic devices, IT devices and equipment, as well as the design, testing and logistics of large ele ctronics (printed electronics, stretchable electronics, etc.).
The total number of people were expecting to get involved in this Trade Show, Fair and Exhibition is close to 120,000. The event will be held by Japan Electronics Packaging and Circuits Association and hence named JPCA.
JPCA 2015 will be held in collaboration of three events:
PWB Tech 2015
Single-sided, double-sided, and multi-layered printed wiring boards, flexible printed wiring boards, build-up wiring boards, flex-rigid printed wiring boards, ceramic wiring boards, metal (copper, aluminum, etc.) based printed wiring boards, other printed wiring boards, and related books, etc.
Module Japan 2015
Printed wiring mount board, mounted module substrate, Packaging and structural design technologies, functional design technologies, Electronic circuit mounted board/ semiconductor integrated circuit inspection and assessment contract services, etc.
EMS Japan 2015
Rigid substrate, build-up substrate, tape substrate, COF/TAB, ceramic substrate, lead frame, wafer-level package, two-dimensional package (SiP), three-dimension packages, silicon interposer, glass interposer, MEMS interposer (with rewiring layer), functional layer interposer, and related books, etc.