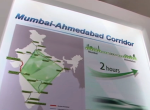 JR East promotes bullet train in India
Date: Feb. 26, 2015
Source: NHK World
East Japan Railway Company officials are promoting bullet train technology in India in hope of developing a high-speed rail system there.
At an industrial fair that opened on Thursday in the capital New Delhi, JR East is exhibiting a Shinkansen bullet train simulator for the first time in India. The firm is promoting its technology based on its high safety.
The simulator is a copy of the driver's seat of an E5 series train of the Tohoku Shinkansen system in northeastern Japan. Users can experience the view from the train at a maximum speed 320 kilometers per hour and see how a control system automatically slows the train when it nears a station.
On the first day, top officials of India's government and many others sat in the simulator and heard explanations from JR East staff.
A male company employee who tried the simulator said it's great that the trains have a system for preventing driver mistakes.
Indian Prime Minister Narendra Modi's government plans to build a high-speed railway connecting Mumbai in the west and Ahmedabad, about 500 kilometers away.
JR East Vice President Yuji Fukasawa said the firm is determined to win recognition for Japan's Shinkansen technology and have the country's bullet trains run on Indian soil.