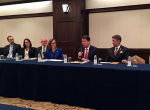 Governor's Reception Imperial Hotel
Date: October 11, 2017
Source: Governor Kate Brown / Media Room
Thank you very much for your kind introduction. I am honored to join you here in Tokyo to promote the state of Oregon and celebrate the wonderful friendship we have developed with the people of Japan.
With us tonight I'm very excited to have President and CEO of OSG Tools, Mr. Norio Ishikawa, and the CEO of OSG USA Mr. Jiro Osawa. OSG Tools just signed on as the first major tenant at the new Oregon Manufacturing Innovation Center now under construction just outside of Portland, Oregon.
With @OregonGovBrown and US Amb Hagerty. Economic cooperation strong, but need for bi-lateral trade increasingly important for Oregon pic.twitter.com/BZW1nIX81I

— Chris Harder (@Chris_C_Harder) October 11, 2017
Known as OMIC, this center pairs cutting edge manufacturers with the resources and facilities of a public-private center to conduct research, develop products, and train workers. OSG will be constructing their own 20,000 square foot R&D center on site.
And also with us are representatives from Mitsubishi Material and Tools, who also just signed on to be a member and partner of OMIC, and will conduct research and development activities at the center.
These strong Japanese companies will be joining with current members of OMIC R&D:
The Boeing Company
Vigor
Daimler Trucks North America
Hangsterfer's Laboratories
Blount International
Silver Eagle Manufacturing
ATI Materials
This collaborative, applied research, and advanced manufacturing approach offers exciting new opportunities for both Japan and Oregon.
Please join me in thanking our new partners, and I thank you for your belief, and your investments, in Oregon.
Oregon and Japan have a special relationship, one that's based on mutual respect, cultural appreciation, and strong trading partnerships.
In my first visit to Japan as Governor in 2015, I was inspired to meet leaders from Japan and Oregon who work every day to strengthen our business and trade partnership. This work takes years to develop and many of you have known each other for a long time.
I am thrilled to return to Japan two years later to honor the relationships we have built and recognize everything you do to bring jobs, growth, and prosperity to both Oregon and Japan. Let's keep it up.
Japan is without question one of the most important partners Oregon has in the global economy.
Markets in Japan and throughout Asia are critically important — because Oregon agriculture is so productive, about 80% of Oregon products are exported to regional and international markets.
Oregon exports to Japan increased last year, while Japanese goods coming into Oregon increased as well. While this is worth celebrating, there is more work to do.
Tomorrow's economy will challenge us to keep finding new ways to share the many talents and goods we have to offer each other—and seeing you all here I am confident that the future remains bright.
I hope that the business between our state and Japan continues to blossom, and that our relationships and cultural exchanges continue.
These relationships and investments certainly bolster our respective economies. But perhaps most important, they lead to a deeper cultural connection between the people of Oregon and the people of Japan.
I'm proud of the work being done at the Inbound Cultural Exchanges and Sister Programs like the one at Richmond Elementary School in Portland. We are also proud to have the Japanese American Society of Oregon, one of the oldest of its kind in the US.
Willamette University's 40-plus year partnership with Tokyo International University of America has brought thousands of Japanese students and faculty to its campus in Salem, and sent thousands more Willamette students and faculty to teach and learn in Japan.
When we focus on developing personal relationships and cultivating mutual respect for and understanding of each other's cultures, our economies will thrive together.
I believe Oregon and Japan have much to offer each other—we are communities linked with shared economic goals and cultural values.
Oregon looks forward to building and growing the ties with Japan that will help us both reach our goals.
In Oregon, we make things. Innovative, useful, marketable – and in some cases, delicious – things. We are proud to share our uniquely-Oregon products with the rest of the world.
We strive to look beyond status-quo thinking and recognize that finding innovative solutions for preserving the environment opens entirely new economic opportunities and job growth on its own.
With me are leaders from each of our trade-focused agencies, our economic development department, Business Oregon, our department of Agriculture, our tourism department, Travel Oregon, and the gateway in and out of Oregon: the Port of Portland.
A big part of this trip is our work to share Oregon's bounty of food exports. With me are representatives from 12 Oregon manufacturers, mostly food and beverage products.
Together they we more than 40 meetings here in Japan to explore export opportunities to bring our incredible Oregon products to Japanese tables.
Oregon looks forward to a long-lasting, personal relationship with Japan. Free trade and close connections help both our economies prosper.
I also hope you'll visit Oregon soon. Portland, our most famous destination, offers a vibrant urban scene and world-renowned culinary reputation.
Let's continue pursuing new development opportunities, expanding trading partnerships, and promoting cultural exchanges .
Let's continue growing together and bring jobs and prosperity to both Oregon and Japan.
Thank you.