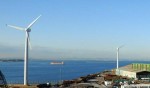 Komaihaltec gets tailwind from midsize turbine business
Date: Sep 23, 2014
Source: Nikkei Asian Review – by TAKAHISA MIWA
TOKYO — Bridge and steel frame manufacturer Komaihaltec has caught wind of a new market opportunity, selling midsize wind turbines for use in mountainous regions, remote islands and other areas where power supplies are inadequate.
The company is pitching diversification of electricity sources to clients, stressing wind turbines can cut costs by replacing diesel generators. It has clinched its first sale in Asia, a 270 million yen ($2.46 million) order for two midsize wind turbines from a state-owned power company in Bhutan. The units will be in operation by the end of 2015. The deal includes constructing the turbines and connecting them to the power grid.
This will be Komaihaltec's second overseas delivery of wind turbines, following a project in Mexico.
Bhutan relies on hydroelectric power to meet the bulk of its electricity needs. The Himalayan kingdom has decided to introduce wind power in preparation for an expected decline in water resources. This will be the first Bhutan's use of wind turbines, and the area where they will be installed has strong winds during the daytime and weaker breezes at night, according to Komaihaltec. The windmills should help the country meet peak electricity demand.
Wind turbines have gotten larger in recent years, with outputs on the order of 2,000kW, primarily in Europe and the U.S. But shipping large turbines to mountainous countries like Bhutan is difficult. Midsize turbines, on the other hand, are relatively easy to ship by truck. They also require less supporting infrastructure.
This makes them ideal not only for Bhutan, but other developing countries with challenging topographies, such as remote islands. Bhutan plans to increase wind power generation to 5,000kW by 2020.
On remote islands, diesel generators are often used to make up for electricity shortfalls. Depending on fuel prices and shipping costs, the cost can reach 40 yen per kilowatt-hour. Wind power costs one-fourth to one-half that, offering substantial savings. Komaihaltec thus expects demand for its turbines, even in countries without subsidies for renewable energy.