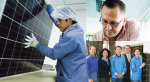 Kyocera's solar sales boosted by demand in Japan
Date: Apr 28, 2014
Source: PV-Tech – By Mark Osborne
Japanese electronics firm, Kyocera reported increased PV module sales for its 2014 financial year, boosted by both domestic and commercial market demand for solar energy in Japan.

The company's Applied Ceramic Products Group (ACPG), which houses the majority of its PV related products reported FY2014 net sales of 272,795 million yen (approximately US$2.6 billion), up 12.3% the previous year. ACPG reported a profit of approximately US$326.5 million.

Although PV sales are not reported separately, Kyocera had previously revised PV guidance upwards for the financial year, guiding sales target of 1.2GW, compared to 1GW.
The company noted that solar energy business sales increased substantially as demand continued to rise, notably in the commercial sector in Japan. Sales volume of solar energy products in Japan was said to have expanded more than 2 times over the previous nine months, according to the company, with a sales ratio between residential and commercial around equal.
However, despite expected further growth of 5%)in the PV commercial sector the company said it did not expect an increase in the profit ratio.
Kyocera also noted in its annual report that it planned to increase sales through the development of integrated solar energy systems products, notably energy management systems and controls.
The company said it would develop PV module and energy storage solutions and planned to develop its business involvement in PV power plant design, construction and maintenance, following many other PV manufacturers into the downstream market.
Kyocera guided ACPG sales of around US$2.96 billion in FY2015.