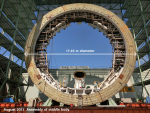 The World's Largest EPB Shield Tunneling Machine
Source: Hitachi Zosen Corporation
The Hitachi Zosen Sakai Works has completed work on the world's largest earth pressure balance (EPB) shield tunneling machine, with a diameter of 17.45 meters.The tunneling machine will be delivered by ship to Seattle in March 2013.
The shield tunneling machine will be used to dig a highway tunnel for Seattle State Route 99 (SR99), which is to be relocated underground due to aging bridge Infrastructure. The 2.8 km tunnel, which begins at the southern end of the Alaskan Way, will be built over a period of about sixteen months starting in Summer 2013."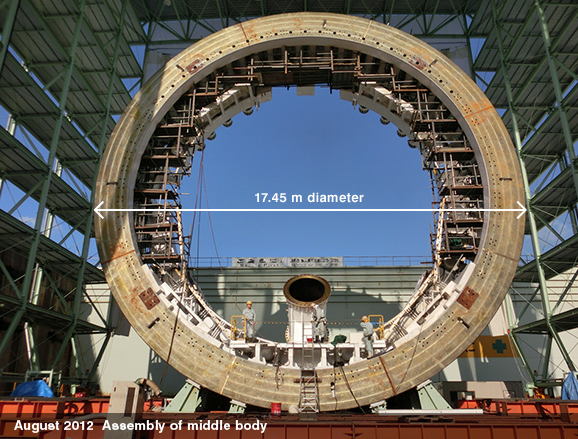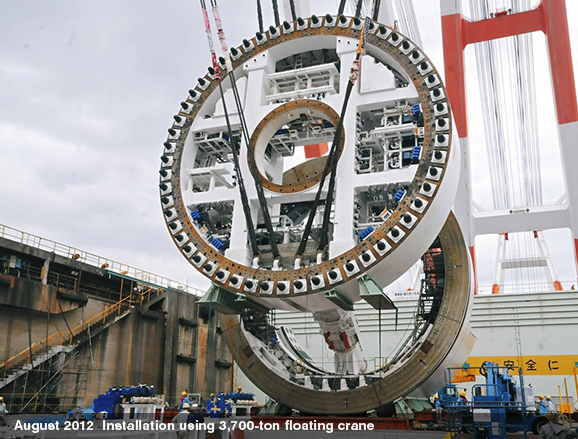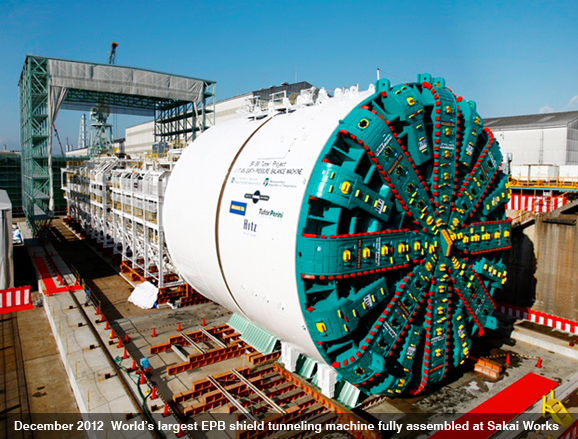 SR99 Tunnel Project
| | |
| --- | --- |
| Client : | Washington State Department of Transportation (WSDOT) |
| Project title : | SR99 Tunnel Project |
| Builder : | Seattle Tunnel Partners (joint venture between Dragados USA, Inc. and Tutor Perini Corporation) |
| Delivery : | Summer 2013 |
| Commence work : | Summer 2013 |
Officially Name is Bertha
A naming competition for the world's largest shield tunneling machine was organized by the Washington State Department of Transportation (WSDOT). The winning name, Bertha, was submitted by a Washington elementary school student.
The naming ceremony was performed at Sakai Works by WSDOT representative Ms. Linea Laird on December 20, in conjunction with the completion ceremony.
EPB shield tunnelingmachine with advanced safety systems
The slurry pressure system is designed to work with the variety of different soil types found in Seattle. Safety initiatives include injecting excavated soil with chemicals and using slurry pressure to prevent ground collapse.
The new design allows cutter disks to be inspected and replaced from within the cutter head. This eliminates supplementary construction processes and allows the work to be completed safely at atmospheric pressure.
Above-ground safety is of paramount importance because the machine will tunnel directly beneath a city. As such, the tunneling machine features a range of safety features.
The tunneling machine has been split into sections weighing as close as possible to 900 tons, the maximum allowed under local weight regulations, in order to minimize the number of sections and speed up the assembly process in Seattle.

Hitachi Zosen Sakai Works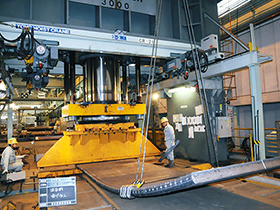 Bending the steel plates
Assembling the cutter driveunit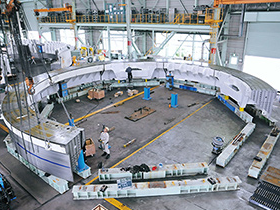 In-factory assembly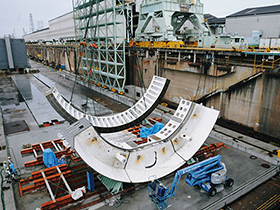 Installation in the dry dock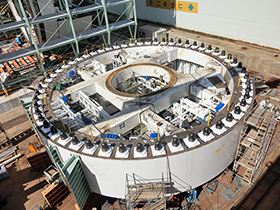 Screw intake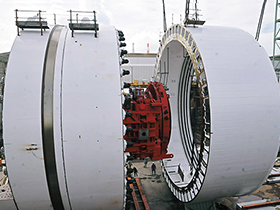 Installation begins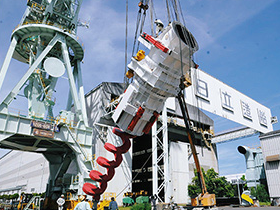 Attaching the screws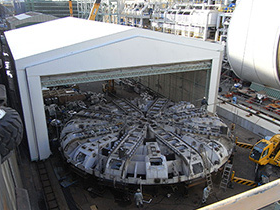 Fabricatingthe disk cutters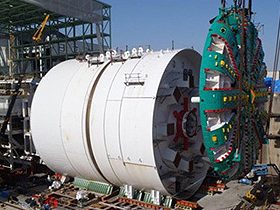 Final installation, completion
---