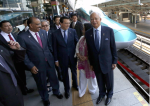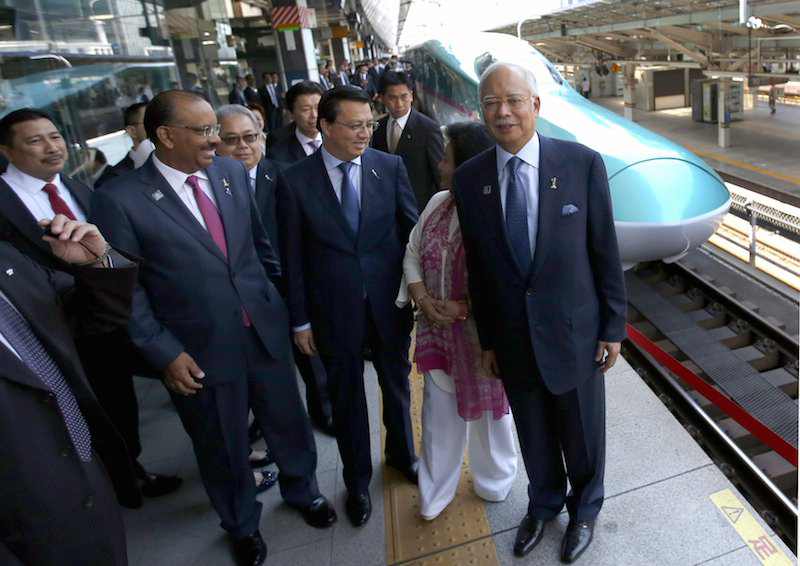 Najib takes Shinkansen bullet train to Sendai
Date: May 26, 2015
Source: The Malaysian Insider
Prime Minister Datuk Seri Najib Razak today experienced first-hand the Shinkansen, Japan's renowned bullet train which travels at 320km per hour.
Accompanied by his wife Datin Seri Rosmah Mansor, Najib boarded the Hayabusa 15 Shinkansen train at 10.40am (9.40am MYT) to travel to Sendai city, about 325km away.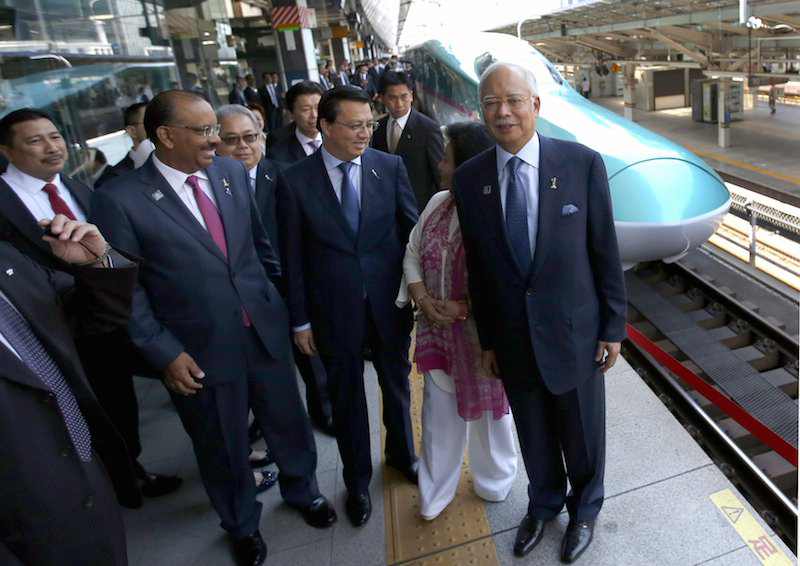 The journey took 96 minutes, compared to more than four hours by road. Also present were Transport Minister Datuk Seri Liow Tiong Lai, Minister in the Prime Minister's Department Datuk Seri Idris Jala, Chief Secretary to the Government Tan Sri Ali Hamsa and ambassador to Japan Datuk Ahmad Izlan Idris.
Earlier, Najib and the Malaysian delegation were briefed on the Shinkansen rail service and development around the Tokyo station by East Japan Railway Company officials, led by its chief executive officer, Tetsuro Tomita.
Tetsuro told the prime minister that the train in which he would be travelling to Sendai used the latest technology. "This is the latest train with the latest technology. It runs 320km per hour.
This is the operating speed and safe speed," he said. Yesterday, Japanese Prime Minister Shinzo Abe said the country wanted to see Shinkansen technology used in the planned high speed rail project between Kuala Lumpur and Singapore.
"I hope to see Shinkansen running on Malaysian land," he told a joint press conference with Najib after their bilateral meeting at the Prime Minister's Office.
In his response, Najib said he believed that Japan would submit a highly competitive bid when the time came. Introduced in 1964, the Shinkansen line now spans 2,400km and runs across Japan.
Early this month, Najib and his Singapore counterpart Lee Hsien Loong reaffirmed the commitment of both countries to the success of the high speed rail, which is expected to reduce the travel time between Kuala Lumpur and Singapore to just 90 minutes compared to more than three hours by road.
Besides Japan, several other countries like China, France, South Korea and Germany have shown interest in the project.
Japan is also reportedly lobbying to introduce the Shinkansen in the high speed rail project between Bangkok and Chiang Mai in Thailand, and Jakarta and Bandung in Indonesia. – Bernama, May 26, 2015.