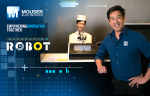 Mouser Electronics and Grant Imahara Visit Futuristic Robot Hotel and Ponder Dawn of AI in New "Generation Robot" Video
Date: July 11, 2018
Source: Mouser Electronics Inc.
NAGASAKI, Japan – Mouser Electronics Inc., the authorized global distributor with the newest semiconductors and electronic components, along with celebrity engineer Grant Imahara, today released the third video episode in the Generation Robot series, part of Mouser's award-winning Empowering Innovation Together™ program.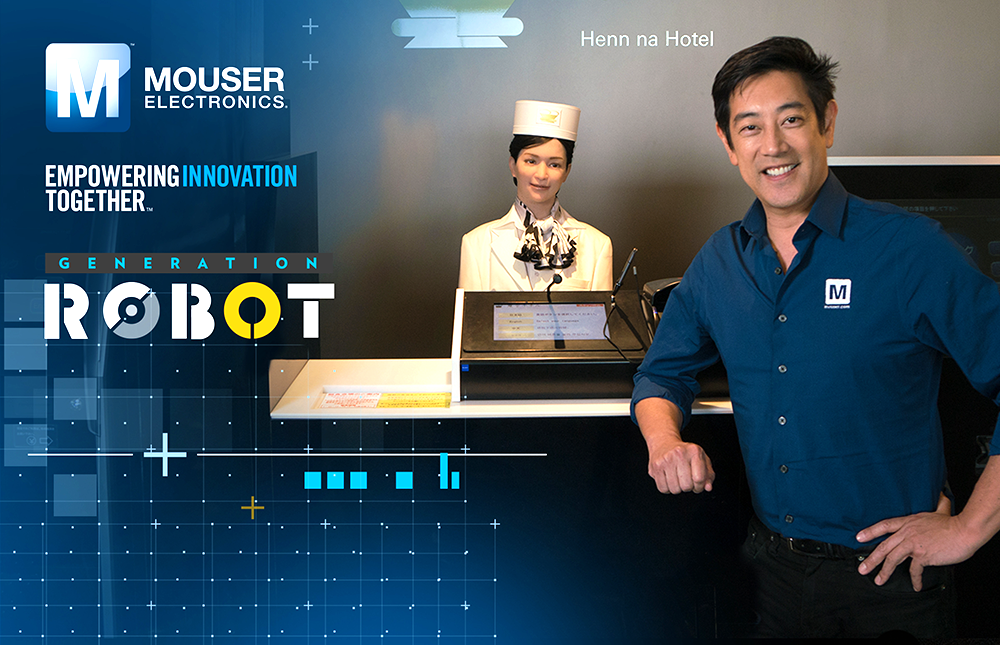 Global distributor Mouser Electronics and engineer spokesperson Grant Imahara team up to present the third episode of the Generation Robot series from Mouser's Empowering Innovation Together program. The series travels to Japan to highlight the people, companies and machines that are changing how we view and interact with robots.
In the newest video, Imahara visits the world-famous Henn na Hotel in Nagasaki, Japan, which is staffed almost exclusively by robots. Because the hotel employs very few human staff members, Imahara investigates how the hotel's chief technology officer continually changes how the robots work based on the complexities of human–robot communication. The Generation Robot series is sponsored by Mouser's valued suppliers Analog Devices, Intel®, Microchip Technology and Molex.
The high-tech social experiment at Henn na Hotel provides a rare, real-world glimpse into what Generation Robot means to modern and future communities and helps to answer a very realistic question: Are we prepared? The new video delves into various uncertainties of human-robot interaction (HRI), such as the ability of robots to adapt to unlimited HRI scenarios, problem-solving capabilities in humanistic scenarios, and the implications of successful or unsuccessful communication among a variety of human demographics.
"Innovation requires us to see what technology may be able to do in the future and then strive to make it happen today," said Glenn Smith, President and CEO of Mouser Electronics. "There will always be hurdles and failures along the way, but true innovation results from pushing through and attaining what's possible."
"This amazing social experiment is giving the industry a unique insight into how people will eventually interact with robots on a daily basis. The technology certainly has some evolution, but I'm looking forward to the day when humans and robots can coexist as equals," added Imahara.
Since 2015, Mouser's Empowering Innovation Together program has been one of the most visible and recognized programs in the electronic component industry, featuring projects ranging from 3D printing objects in space to the amazing benefits of technologies that are Shaping Smarter Cities. For 2018, Mouser's goal is to reach even more innovators around the globe with the Empowering Innovation Together program through the focus of how robots impact humanity.
To learn more about this and all of Mouser's Empowering Innovation Together series, visit www.mouser.com/empowering-innovation and follow Mouser on Facebook and Twitter.
About Mouser Electronics
Mouser Electronics, a Berkshire Hathaway company, is an award-winning, authorized semiconductor and electronic component distributor focused on rapid New Product Introductions from its manufacturing partners for electronic design engineers and buyers. The global distributor's website, Mouser.com, is available in multiple languages and currencies and features more than 5 million products from over 700 manufacturers. Mouser offers 23 support locations around the world to provide best-in-class customer service and ships globally to over 600,000 customers in more than 220 countries/territories from its 750,000 sq. ft. state-of-the-art facility south of Dallas, Texas. For more information, visit www.mouser.com.
About Grant Imahara
Well known in the engineering community, Grant Imahara has paired his engineering expertise with a successful TV and film career. In addition to his roles on MythBusters and BattleBots, Imahara has worked on many famous robotic characters, including R2-D2 from Star Wars, the talking robot skeleton sidekick Geoff Peterson from The Late Late Show with Craig Ferguson, and the Energizer Bunny. Grant Imahara(Wikipedia)
Check the Henn na Hotel's rooms and rates, and make a reservation!
Check it out the international flight deals below!