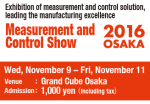 Measurement and Control Show 2016 OSAKA
Date: Nov 9(Wed) – 11(Fri), 2016
Hours: 10:00 – 17:00 (Last Day 17:00)
Venue: Grand Cube Osaka, Osaka, Japan
Organizer: Japan Electric Measuring Instruments Manufacturers' Association
Contact: +81-75-823-2020 / mcs2016@jemima.or.jp
Official Site: jemima.osaka/en/
Measurement Exhibition Osaka is a 3 day event being held from 9th November to 11th November 2016 at the Osaka International Convention Center in Osaka, Japan. This event showcases products like Instrumental and control equipment, environmental measurement equipment, indicator instrumentation, electrical measuring and much more etc. in the Industrial Products industry.

Outline:
The PR slogan for the Measurement and Control Show 2016 OSAKA is "Inspiring your future". We are aiming to communicate the message that when information technology is combined with the measurement and control technology that underpins the development of both society and industry, our hearts beat faster and we begin to "move to the beat of the future."
At the Measurement and Control Show, we will raise five issues that require solutions for the future manufacturing, and we will propose solutions from JEMIMA's perspective.
Product lifecycle management – Industry structure changed by IoT
New manufacturing through partnerships between companies and organizations – Mass customization
Automation technology – Making up for a lack of human resources in the manufacturing workplace
Measuring instruments in the IoT age – Ensuring reliability of data
Cybersecurity and safety – How do we protect complex facilities and systems?
We aim to ensure that the conference, exhibition and presentations allow visitors to experience and feel that we are "Inspiring your future" Our diverse range of content will present the "exhibition of measurement and control solution, leading the manufacturing excellence."
We anticipate many visitors from the areas of development, design, manufacture, quality control, sales and marketing, and maintenance. We will ensure all our efforts are put into achieving greater results for our exhibitors.
We encourage you to exhibit with us, and look forward to working with you.
Exhibitor:
ANRITSU CORPORATION
Azbil Corporation
Calibration Service Committee
CHINO CORPORATION
CHUO ELECTRONICS CO.,LTD
DIGI-TEK Inc.
DKK-TOA CORPORATION
Electronic Measuring Instruments and Systems Committee
ENEGATE Co.Ltd
Energy / Low-carbon Committee
Environmental Measurement Committee
FieldComm Group
FLEXIM
Fuji Electric Co.Ltd.
FUJI ULTRASONIC ENGINEERING CO.,LTD
GMI Japan K.K
HIOKI E.E. CORPORATION
Hitachi High-Tech Solutions Corporation
Honda Business Systems Ltd.
HORIBA STEC, Co., Ltd.
HORIBA, Ltd.
ISA100 Wireless Compliance Institute
Japan Electric Meters Inspection Coporation Kansai
Japan Electric Measuring Instruments Manufacturers' Association
Japanese PROFIBUS Organization
KEC Electronic Industry Development Center
KYOTO EIC Co.,LTD.
MAKE CO.,LTD
MITSUBISHI ELECTRIC CORPORATION
MTT CORPORATION
NEW COSMOS ELECTRIC CO.,LTD
NF Coporation/NF Commerce co.,Ltd
Ninomiya Eiectric Wire Co., Ltd
OKAZAKI MANUFACTURING COMPANY
PA/FA Measurement and Control Committee
Pepperl+Fuchs K.K.
PHOENIX CONTACT K.K.
Planning & Steering Council
Product Safety / EMC Committee
Quantum Design Japan.Inc.
RIKEN KEIKI CO.,Ltd.
RION Co., Ltd.
Rohde&Schwarz Japan
Seika corporation
SHIMADZU SYSTEM SOLUTIONS CO.,LTD
Strategic Study Committee for Advanced Technology
TAKEMOTO DENKI CORPORATION
TANAKA ELECTRIC LABORATORY CO.,LTD
TECHNICAL Co.,Ltd.
Temperature Measurement Committee
The Society of Instrument and Control Engineers
Toko Instruments,Inc.
TOKYO KEISO CO., LTD.
Toray Engineering Co., Ltd.
YAMARI INDUSTRIES,LIMITED
Yokogawa Electric Corporation/Yokogawa Solution Service Corporation
Yokogawa Meters & Instruments Corporation