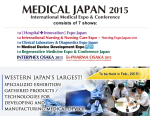 5th Medical Device Development Expo Osaka (MEDIX Osaka)
Dates: Feb 4 (Wed) – 6 (Fri), 2015
Hours: 10:00-18:00 (Last day until 17:00)
Venue: INTEX Osaka, Japan
Organiser: Organised by Reed Exhibitions Japan Ltd.
Official Site: www.medix-kansai.jp/en/
TEL: +81-3-3349-8519
FAX: +81-3-3349-8530
E-mail: medix-k@reedexpo.co.jp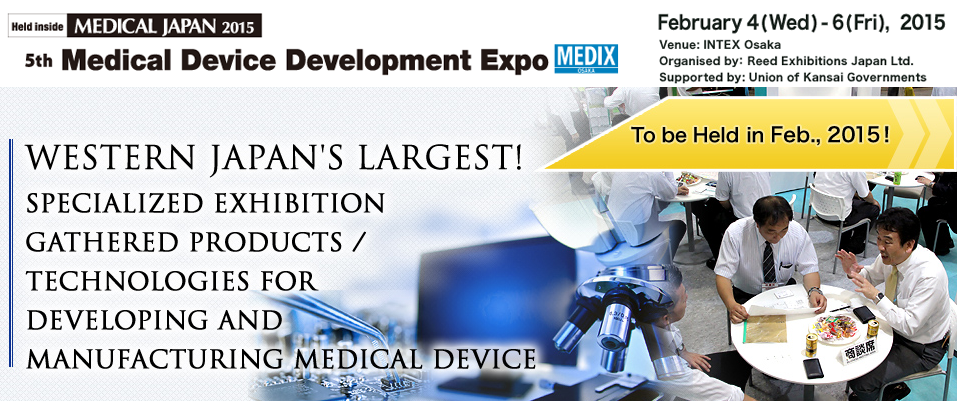 About MEDICAL JAPAN
Held in the World's 2nd largest medical market, Japan, MEDICAL JAPAN is Japan's MOST POWERFUL International exhibition in the medical industry. Consisting of 6 shows, it features medical/hospital products, rehabilitation products, clinical and diagnostics, and also medical device development & manufacturing, regenerative medicine and pharma. 660 exhibitors and 25,000 visitors are expected.
About MEDIX OSAKA
This specialized exhibition will bring together the latest technologies required to design and manufacture medical devices, such as metal/plastic processing technology, manufacturing equipment, equipment components, factory automation technology, measuring technology, image technology, packaging technology and various IT solutions. It attracts a great number of medical device manufacturers who manufacture syringes, thermometers, artificial organs, catheters, MRI systems, patient monitors, etc. and conduct concrete business meetings with them.
Exhibits & Visitors
OEM Zone:
Medical Device OEM/ODM, Disposable Product OEM/ODM, Contract Design/Manufacturing for Electronic Devices, Various Contract Design/Manufacturing
Electronic Components Zone:
Electronic Components, Connectors, Cables, Semiconductors, EMC, Noise Reduction, Power Supplies, Batteries, PCBs, Embedded Technologies, Thermal Control Technologies
CAD/3D Printers Zone:
CAD, CAE, BOM, CAM, PLM/PDM, Viewers, 3D Printers, Various Molding Machines, Materials
Testing/Measurement Device & Sensor Zone:
Testing Device, Measurement Device, Sensors, Analytical Equipment, Inspection Equipment, Other Related Technologies
Prototype Manufacturing & Processing Technology Zone:
Cutting, Laser-cutting, Molding, Surface Treatment, Surface Modification, Forging, Press Work, Plating, Casting, Tools, Machine Tools, Molding Machines
Medical Device Development Products and Technologies:
Medical Device Development Products and Technologies
Concurrent Shows held inside MEDICAL JAPAN:
1st [Hospital + Innovation] Expo Japan
Nursing Expo Japan 2015 – 1st International Nursing & Nursing Care Expo
1st Clinical Laboratory & Diagnostics Expo Japan
1st Regenerative Medicine Expo & Conference Japan
INTERPHEX OSAKA 2015
in-PHARMA OSAKA 2015