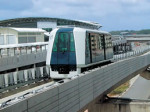 MHI to Construct Automated Unmanned Railway System For São Paulo Metro Line 6 in Brazil – First Order for Railway System from Latin America –
Date: Aug 18, 2014
Source: Mitsubishi Heavy Industries, Ltd.
Tokyo, August 18, 2014 – Mitsubishi Heavy Industries, Ltd. (MHI), in cooperation with Mitsui & Co., Ltd., has received an order from the Concessionária Move São Paulo for the turnkey construction and delivery of the fully automated driverless system for São Paulo Metro Line 6-(Project). The Concessionária Move São Paulo is in charge of the construction and operation of the Project. This is MHI's first railway systems in Latin America and expected to complete in 2020.
Line 6 will be connecting São Paulo's central district with the city's densely populated northwest, covering a distance of approximately 15 kilometers and incorporating 15 stations. It is expected to carry approximately 633,000 per day.
The Project is Brazil's first public-private partnership (PPP) arrangement based on full-turnkey rail system construction package. Concessionária Move São Paulo is the PPP entity and comprises three of Brazil's leading conglomerates: Odebrecht, Queiroz Galvão and UTC Participações. Under the concession agreement signed with the Government of the State of São Paulo, this body has acquired the rights to construct and operate the Project for a period of 25 years.
MHI will form a consortium with a local federation of construction companies who will be undertaking the civil and building construction. MHI will be responsible for the design, procurement, installation, test and commissioning of fully automated driverless railway systems comprising signaling system, communication system, power supply and distribution system, overhead catenary system, depot equipment and facilities, platform screen doors and tunnel ventilation systems.
MHI has an extensive track record in the successful construction and delivery of a large-scale, complex and sophisticated railway systems projects, including the world renowned Taiwan High Speed Rail and Dubai Metro. MHI has also delivered a significant number of automated people movers (APM) not only in Japan but also in the United States, Hong Kong, Singapore, Korea and UAE; all these systems are operating with stable operation record. The key factor for the success of MHI's transportation business is the delivery of the first class systems with the highest quality, reliability and safety with the budget and on time. This latest order reflects both these substantial track records and the outstanding performance of MHI's transportation systems.
Traffic congestion is a major socio-economic challenge in Brazil, and development of public transport infrastructure is acknowledged as an urgent and critical issue which needs to be actively resolved for the pursuit of continued successful growth and prosperity. In response to this initiatives, the construction of railway systems similar to the system for São Paulo are also planned in other major cities across Brazil. MHI's intention is that this latest order will act as a springboard for MHI attracting and securing further orders for its advanced technologies transportation infrastructure solutions in Brazil and throughout the South American market. MHI will direct and concentrate its efforts in achieving goal.