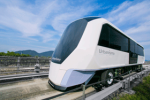 MHI Develops High-speed Automated Guideway Transit System Capable of Speeds up to 120 Kilometers Per Hour – New Offering Will Dramatically Expand the Global Market –
Date: Oct 2, 2014
Source: Mitsubishi Heavy Industries, Ltd. (MHI)
Tokyo, October 2, 2014 – Mitsubishi Heavy Industries, Ltd. (MHI) has completed the development of a high-speed Automated Guideway Transit (AGT) System achieving a maximum speed of 120 kilometers per hour (kph), roughly the twice the speed compared to current so-called "automated guideway transit system."
With excellent environmental compatibility and outstanding flexibility in route planning, AGT System has been widely adopted around the globe for the use as an urban feeder lines, airport access routes, and etc.. The high-speed AGT newly developed by MHI achieves velocities up to 120kph, making the system suited to routes connecting inner cities with their suburbs, eliminating the need to change trains. Adoption of the new AGT will thereby increase convenience for large numbers of commuters and other users.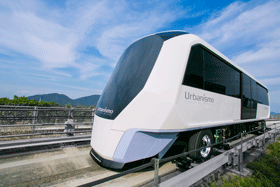 High-speed Automated Guideway Transit System
Besides the feature of higher speeds, MHI's high-speed AGT system has made significant improvement in reducing both the riding vibration and noise through the adoption of new bogies incorporating MHI's proprietary technology. Together with refined exterior design and its sophisticated urban chic interior design make MHI's new offering a harbinger of next-generation new transit systems.
MHI's earlier new transit systems have already been introduced in countries around the globe in recognition of their advantages in terms of flexible route planning, low construction costs, quick construction, low operation costs, low vibration and noise. Now, with the increased speed, the newly developed AGT system will offer more effective solution to the various problems for the cities facing with undergoing rapid economic development, particularly in Southeast Asia and other emerging economies.
MHI has a robust track record in delivering its automated people movers (APM) for airports – the company's new transit system originally developed for the Japanese market – and its automated guideway transit (AGT) systems for intra-city applications to overseas locations including the United States, Asia and the Middle East. Marketed under the "Crystal Mover" brand, these systems have already enabled MHI to rival other manufacturers for the top position in the global market. With the addition of the newly developed high-speed system to its lineup, MHI will now focus on achieving further orders for its urban transportation systems.