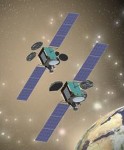 Mitsubishi Electric to Deliver Two Communication Satellites to Turkey
Date: March 8 2011
Source: Mitsubishi Electric Corporation
Mitsubishi Electric Corporation announced today that it has been awarded a turnkey contract to deliver the Turksat 4A and Turksat 4B communications satellite to satellite operator Turksat Satellite Communication and Cable TV Operation AS (Turksat AS). In-orbit deliveries are slated for the fourth quarter of 2013 and the first quarter of 2014, respectively.

The two satellites, both offering minimum 15-year service lives, will enable Turksat AS to offer telecommunication and direct TV broadcasting services throughout Turkey, as well as in Europe, Central Asia, the Middle East and Africa. Turksat 4A, which will be positioned at 42 degrees east longitude, will provide Ku-band high-power direct TV broadcasting channels and both C- and Ka-band communications channels. Turksat 4B will be used for Turksat AS's new broadband connectivity service in the Ka band, as well as fixed communication services via the Ku and C bands at 50 degrees east longitude.
Both satellites will be built on Mitsubishi Electric's DS2000 satellite bus platform, a fully proven modular platform with the flexibility to handle a broad range of payload applications. As the ninth and tenth members of the DS2000 family of satellites, the Turksat 4A and 4B will further demonstrate the platform's well-established high reliability for in-orbit performance.
Mitsubishi Electric has been a leading manufacturer contributing to space research and development in Japan, participating in more than 440 domestic and international satellites as prime contractor and major subcontractor.
Turksat Satellite Communication and Cable TV Operation AS (http://www.turksat.com.tr) is Turkey's national satellite operator. Turksat AS aims to lead the Turkish telecommunication industry in providing a variety of innovative and value added satellite services to its customers from Far Western Europe to Central Asia, Turkey and the Middle East. Besides high quality digital broadcasting services, Turksat AS also offers a variety of flexible satellite solutions by providing its customers with cable and wireless broadcasting, high-speed Internet services and direct-to-home broadcasting services.