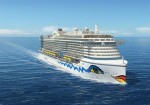 MHI Begins Construction of New Generation AIDA Cruise Ships with Leading-edge Environmental Technologies
Date: June 30 2013
Source: Mitsubishi Heavy Industries, Ltd.
Tokyo, June 30, 2013 – Today Mitsubishi Heavy Industries, Ltd. (MHI) began construction at its Nagasaki Shipyard & Machinery Works of the first of two new generation cruise ships for AIDA Cruises, the German cruise company part of Costa Group, Europe's largest cruise company member of Carnival Corporation & plc. The two new ships, which will incorporate an array of the world's leading-edge environmental technologies, are scheduled for delivery in the spring of March 2015 and 2016 respectively.
The keel laying ceremony to mark the occasion was held at the shipyard today attended by the owner's representatives including Pier Luigi Foschi, Chairman of Costa Group, Michael Thamm, CEO of the Costa Group, Michael Ungerer, President of AIDA Cruises; and from MHI, Chairman Hideaki Omiya, Mrs. Omiya who accepted the honor of Coin Mother to place the symbolic coin in a block of the ship, and Hisashi Hara, Head of the Shipbuilding & Ocean Development Headquarters.
The ship now under construction is the first of two vessels ordered by Costa Group; each has around 3,300 passengers capacity with 124,500 gross tonnage – the largest ever constructed for AIDA Cruises. The second ship is scheduled for delivery in March 2016. The two new AIDA ships marks the order to follow the two highly successful 116,000 gross tonnage ships for Carnival's Princess Cruises – Diamond Princess and Sapphire Princess – delivered in 2004 at MHI Nagasaki Shipyard.
The new cruise ships on order will not only be equipped with many advanced environmental technologies, but also incorporate various features to enable provision of AIDA's unique style of cruising experience. Among the features already selected for installation is the "Mitsubishi Air Lubrication System" (MALS), MHI's proprietary technology that reduces fuel consumption and carbon dioxide (CO2) emissions through use of a layer of air bubbles blown from the vessel's bottom. MALS is expected to reduce fuel consumption by approximately 7%. Other advanced technologies are also slated to be added to the ships' installations, with details to be announced later.
In constructing the two new generation cruise ships for AIDA, MHI will bring together its full complement of shipbuilding technologies accumulated to date. Leveraging this latest order, the company will continue its aggressive marketing initiatives to attract orders for large-size ships equipped with leading-edge technologies to reduce fuel consumption and ease environmental impact.
Carnival Corporation is the largest cruise vacation group in the world, with a portfolio of 10 cruise brands. In total the group now operates 102 ships, and 7 new vessels are scheduled to join the fleet by 2016.
Costa Crociere S.p.A. comprises the brands Costa Cruises, AIDA Cruises and Iberocruceros. Its fleet, the largest in Europe, has a total of 27 ships in service and 3 new ships to be delivered by 2016. Costa Crociere S.p.A. is a member of Carnival Corporation & plc (NYSE/LSE: CCL; NYSE: CUK.)
---
Please check the
Boats & Ships
product.