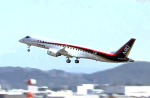 Japan's Passenger Jet Takes to the Skies for First Flight
Date: Nov 10, 2015
Source: Bloomberg by Chris Cooper and Kiyotaka Matsuda
Mitsubishi Aircraft Corp.'s new jet took off on its debut flight from Nagoya airport in central Japan, half a century after the country last introduced a new passenger plane.
The Mitsubishi Regional Jet, which can seat as many as 92 passengers, took off at 9:35 a.m. Wednesday with two pilots. A round of applause rang out when the plane landed back in Nagoya at 11:02 a.m. after a flight that took it over Japan's Pacific coast.
Mitsubishi Aircraft, which has delayed the MRJ's expected delivery date three times, tapped bullet-train specialists to ensure the plane was completed. The launch will intensify competition for orders with Brazil's Embraer SA and Canada's Bombardier Inc.
"The MRJ has a lot of potential," said Dan Lu, an analyst at JPMorgan Securities Japan Co. in Tokyo."I expect demand for regional jets to increase as more people fly and airlines put smaller jets on some routes."
Virtual Lock
The white jet with red, black and gold lines along its sides and "MRJ" written on its tail took off Wednesday into a blue sky with a few clouds, on a brisk fall day with a light wind. About 200 members of the press milled about as helicopters hovered in the air a few hundred meters from the runway. A smaller escort plane shadowed the MRJ, observing the condition of the airframe during the flight.
The subsidiary of Mitsubishi Heavy Industries Ltd. hopes the MRJ can break the virtual lock that Embraer and Bombardier have on the market for passenger jets with fewer than 100 seats. Boeing Co. and Airbus Group SE control the market for larger passenger planes.
With Montreal-based Bombardier focusing on its larger C-Series jets, which can carry as many as 160 passengers, Mitsubishi Aircraft sees an opening it could fill.
The company has won 407 orders, including options and purchase rights, for two versions of the MRJ, which can seat from 78 to 92 passengers.
"In our forecasts we have the MRJ replacing Bombardier as the second-biggest regional jet supplier," said Rob Morris, head of consultancy at Ascend Flightglobal Consultancy.