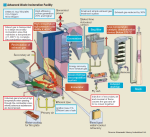 Advanced ability to prevent pollution and high-efficiency power generation
From about 1960, Japan began disposing urban garbage by incineration, and today, Japan possesses the world's leading garbage incineration facilities. In the fiscal year 2009, there were 1243 incineration facilities in Japan, incinerating garbage using several methods – stoker furnaces, fluidized bed furnaces, and gasification fusion resource furnaces with the objective of ash recycling. Stoker furnaces account for 70% of all furnaces, and improvement of this type of furnace is progressing rapidly.
Today, while high level environmental conservation technologies are being introduced, technologies related to high-efficiency power generation and technologies related to safe operation, such as automatic incineration devices and automatic cranes, are also being developed. We are now accumulating know-how on handling diverse types of garbage of today, ranging from the low-calorie garbage, which was generated when incineration facilities were first being built, to the high-calorie garbage. Such technology can be utilized for the type of garbage generated in the Asian region.
The newest stoker furnace technology is low air incineration that aims for high-efficiency power generation, which is already under construction in Japan. The figure below shows one example of the latest technology: a facility exhibiting high pollution prevention and high-efficiency power generation capacity.
Waste incineration facilities in residential and commercial areas
With Japan's high-tech incineration facilities, waste incineration has won trust as safe and sound technology, and when planning construction of such facilities, communication with the surrounding residents about risks is smooth, enabling swift progress in plans to construct incineration facilities in urban and residential areas.
Some of the incineration plants are shown in the photographs below.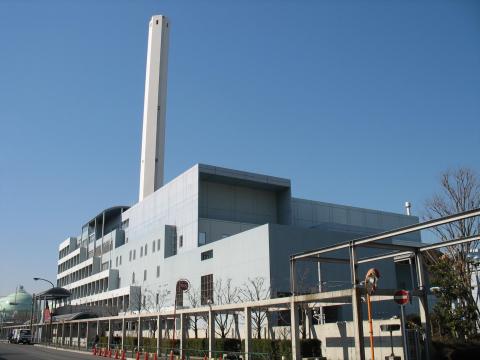 Shibuya Incineration Plant / Tokyo (Example)
In Tokyo, a metropolis in Japan, there exists a mixed commercial and residential area where a large amount of waste is generated. In August 2001, an incineration plant was constructed near Shibuya Station in the center of a high-density urban district. The facility was constructed with a high technology with a capacity of 200t/day, which cleared strict gas emission regulations for NOx, SOx, smoke, dioxin and other gases. Shibuya Incineration Plant is small compared to other waste treatment facilities in Tokyo, and it uses a swirling flow fluidized-bed incinerator. Fluidized-bed furnaces fluidize sand layer on the floor of a tubular furnace with air to maintain high temperature, which leads to efficient incineration of waste.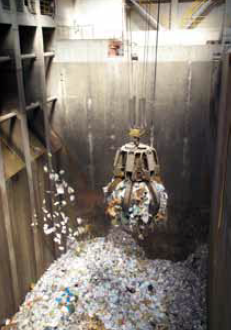 The waste reservoir is separated from the crane operating room by a glass plate and there is no odor. One bucket can drop in waste brought in by one mobile packer. (Kita Incineration Plant)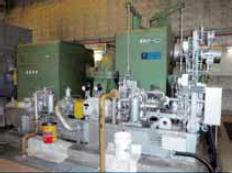 This incineration plant is equipped with a steam turbine generator that generates a
maximum of 4,200kW, which is used in the plant. Excess electricity is sold to Tokyo Electric Power Company. The generator uses high-temperature water of 1Gcal/h, 130°C, with the maximum
steam flow and pressure of 23.1t/h and 3.82MPa. (Shibuya Incineration Plant)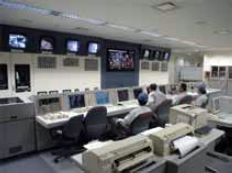 Operation of the incineration plant is managed from the central control room
under automatic control (Shinagawa Incineration Plant)
Solution to poisonous gas and dioxin emissions
It is known that incineration plants for municipal waste generate SOx, HC1, NOx, smoke and dioxin. From the perspective of environmental preservation and to obtain approval from people residing near the plant, harmful substances in the exhaust gas must be sufficiently reduced. In response to this need, many studies have been conducted by public and private institutes, where many countermeasure technologies were developed and improvements have been made on operation technology.
Studies have shown that dioxin is produced by incomplete combustion of waste, and measures have been taken to prevent and reduce dioxin generation with complete combustion in the furnace. Other countermeasures taken includes exhaust cooling to prevent the resynthesis of dioxin, application of bag filters to thoroughly eliminate dioxin contained in smoke, and the development of activated coal, which adsorbs and eliminates dioxin in exhaust fumes and a catalyst that decomposes dioxin.
Based on the above-mentioned studies, structural and maintenance management standards for the incineration plants were established, as illustrated below. The standards apply not only to new facilities but also to existing facilities, where improvements have been achieved. Methods of control for dioxin and other poisonous gas emissions that have been employed by the private and public sectors are as shown in the figure, and problems related to dioxin from incineration have been nearly resolved.
Sufficient environmental measures are also taken for SOx, HC1, NOx and other substances.
New-Generation Incineration Technology
Changeover to new-generation incinerators
There are many city incineration plants, both large and small, being operated in compliance with the strict antipollution policies implemented in Japan. While many technologies have been developed, including technology to reduce dioxin emission, remove acidic gas and recycle incinerated ash, the conventional stoker furnace has seen significant improvement.
The conventional stoker furnace's highly efficient technology enables electric generation from recovered heat waste and makes it an effective measure against greenhouse emissions. Its improvement and objective are summarized in the chart below. Together with the improvement of heat recovery after incineration, this system makes it possible to efficiently generate clean electricity compared to the conventional method.
These new technologies enabled Japan's incineration plants to become safe and sound while generating electricity efficiently.
Status of transition to high efficiency electricity generation
In the past, the priority factor in setting up waste incineration plants was antipollution control, which resulted in a significant upgrading of facilities from this perspective; however, priority was not placed on the efficiency of energy recovery. Rising the temperature and steam pressure for electricity generation results in high efficiency; however, acid gas contained in the exhaust gas causes high temperature corrosion of the steam super heater.
In recent years, research has moved forward to achieve long-service heat-transfer tubes that show resistance to high temperature corrosion. Many plants now construct highly efficient electricity generation facilities with longer operating lives as demanded by greenhouse gas emission measures.
Suitable Incineration Technology in the Asian Region
In Asia, where urbanization is progressing at a rapid speed, the volume of waste is quickly increasing along with population increase. In many Asian cities, collected garbage is transported directly to repository sites.
Due to the lack of land available for repository sites and concern for environmental pollution in areas near repositories, there is a heightened interest for incineration plants.
As a solution to the increasing garbage problem, China made the decision to introduce incineration and has begun to build plants. In Singapore, Thailand and Taiwan, too, Japan's incineration technology is helping in the improvement of public sanitation and environmental conservation.
Japan is a leader in the construction and management of incinerators, realizing incineration treatment of waste with its world-class standard of technology to dispose of from low-calorie to high-calorie garbage.
Examples of some of the incineration plants delivered by Japanese enterprises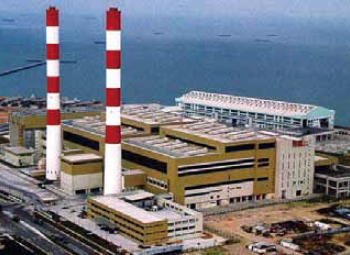 The largest scale plant with the capacity to handle 4,320t/day was built in Singapore in only 38months. Source:Mitsubishi Heavy Industries, Environmental & Chemical Engineering Co., Ltd.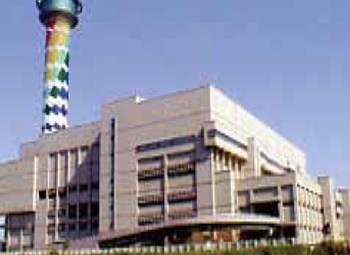 There are several incinerators operating in Taipei, and most of the garbage generated in the country is being disposed of and reduced in a sanitary manner. Source:Hitachi Zosen Corporation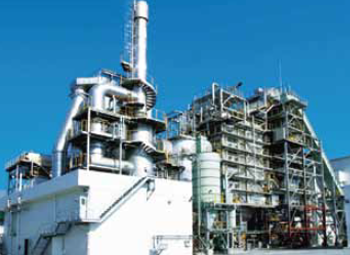 In Thailand, an industrial waste incinerator has been operating from 2006. Its treatment capacity is 100t/day. Source:JFE Engineering Corporation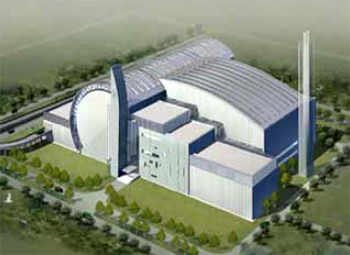 An electric generating facility with the capacity of 30,000 KW and steam condition of 4MPa and 400°C has been delivered to the incineration plant in Beijing, with capacity to handle 1,600t/day. Source:Takuma Co., Ltd.
---
Environment of the 1960s in Japan
Along with the high economic growth of the 1960s, waste volume in Japan increased to cause a strain on landfill plots and dioxin problems from incineration. As Japan's landmass is limited, a reduction of waste volume and quick disposal in landfill became essential. However, urbanization and resident consciousness made it difficult to construct the plants needed to make this possible. Improvement in gas emission treatment enabled resident trust to be won, and heat recovery is now being sought from the operation.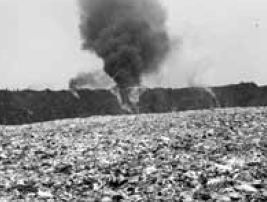 Strain on landfill plots due to increased waste volume and diversified waste categories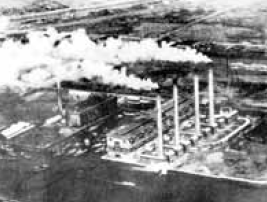 Incineration furnace emitting smoke and gas, causing serious problems with dioxin