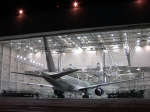 Narita Airport hopes to lure maintenance business
Date: Jan 10, 2015
Source: NHK World
Officials at Japan's Narita Airport hope to make better use of some untapped assets. They say they want to attract more business by leasing out maintenance facilities.
The officials say they are in talks with multiple companies regarding a hangar at the airport that has been unoccupied for several months.
Delta Air Lines opened a large maintenance hangar at Narita in December 2014. The 13,000-square-meter facility is the first maintenance hangar Delta has operated outside the United States. More than 100 mechanics working there provide technical support to aircraft belonging to Delta and other companies.
An official at the Narita International Airport Corporation says the company hopes Narita will one day serve as a maintenance hub for airlines in Asia.
---
Delta TechOps Opens Line Maintenance Hangar at Tokyo-Narita Hub
Date: Dec 3, 2014
Source: Delta TechOps
ATLANTA, December 3, 2014 — Delta TechOps—Delta Air Lines' (NYSE: DAL) maintenance division and its maintenance, repair and overhaul (MRO) provider business—opened a line maintenance hangar at its Tokyo-Narita International Airport hub on Monday with Narita airport and Japanese government officials on-hand to mark the occasion.
The leased 13,000 square-meter facility will provide enhanced TechOps support for Delta's Boeing 747-400, 777, 767, 757 and Airbus A330 transoceanic aircraft. More than 100 Delta TechOps professionals work at the NRT operation.
"The new hangar allows us to enhance our capabilities and further support our stellar workforce at Narita," said Lee Gossett, V.P.–Line Maintenance. "We continue to look for more efficient and effective opportunities to handle our routine and non-routine maintenance requirements. This facility will give us much needed flexibility to support Delta's operation and our customers in the Asia-Pacific region."
Line maintenance has played a significant role in Delta's Asia-Pacific operations for decades and the addition of this hangar facility will further reinforce Delta's industry-leading operational reliability. Year to date, Delta TechOps has achieved more than 120 days without a maintenance cancellation, setting the stage for a record 79 days of 100 percent completion factor for mainline operations.