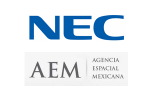 NEC and the Mexican Space Agency collaborate in satellite development
Date: Jul 29, 2014
Source: NEC Corporation
Tokyo, July 29, 2014 – NEC Corporation (NEC; TSE: 6701) and the Mexican Space Agency (AEM), under the jurisdiction of the Ministry of Communications and Transportation (SCT), have signed a Memorandum of Understanding for the development of advanced satellites.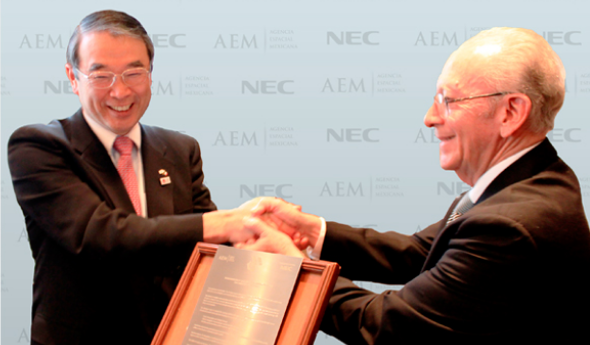 Dr. Nobuhiro Endo, President, NEC Corporation (left), Dr. Francisco Javier Mendieta Jimenez, Managing Director, Mexican Space Agency (right)
The document was signed by the Managing Director of the AEM (Agencia Espacial Mexicana), Dr. Francisco Javier Mendieta Jimenez and by Dr. Nobuhiro Endo, President of NEC Corporation, aiming to strengthen the Earth Observation (EO) and climate change monitoring, global navigation and global positioning systems (GPS) and applications, as well as the satellite communications, control systems and terrestrial networks of Mexico's space industry.


NEC Space Systems
"The field of space science and technology and the value chain of its applications play a vital role in the socio-economic and industrial development of our territories, making this collaboration and technology transfer a definitive reinforcement of Mexican capabilities for developing satellites," said Dr. Mendieta Jimenez.
"Mexico is undergoing major transformations that represent new opportunities for space. NEC has a long history of providing products and services in Mexico, including technologies for the TV broadcast of the 1968 Olympic Games. The Mexican Space Agency has already identified projects and activities of mutual interest and we look forward to building on this agreement," said Dr. Endo.
Dr. Mendieta Jimenez and Dr. Endo mutually emphasized the importance of moving forward with this strategic alliance in cooperation with additional partners that include the Instituto Politecnico Nacional (IPN) and the National Council for Science and Technology (CONACYT) as part of positioning Mexico as a global player and Latin-American leader in the space economy.
---
About NEC Corporation
NEC Corporation is a leader in the integration of IT and network technologies that benefit businesses and people around the world. By providing a combination of products and solutions that cross utilize the company's experience and global resources, NEC's advanced technologies meet the complex and ever-changing needs of its customers. NEC brings more than 100 years of expertise in technological innovation to empower people, businesses and society. For more information, visit NEC at http://www.nec.com.
Based on its Mid-term Management Plan 2015, the NEC Group globally provides "Solutions for Society" that promote the safety, security, efficiency and equality of society. NEC's brand message of "Orchestrating a brighter world" represents the fusion of advanced information and communication technologies and know-how created in coordination with partners and customers all over the world in order to contribute to the betterment of society and realize a brighter and more prosperous future.