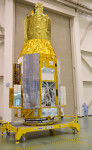 JAXA launches X-ray astronomy satellite "Hitomi" (ASTRO-H)
NEC conducts manufacturing and testing as the system coordinator
Date: Feb 17, 2016
Source: NEC Corporation
Tokyo, Japan – February 17, 2016 – The X-ray Astronomy Satellite "Hitomi" (ASTRO-H) was launched today from the Japan Aerospace Exploration Agency's (JAXA) Tanegashima Space Center atop the H-IIA Launch Vehicle No. 30. Hitomi has successfully entered the intended orbit and deployed its solar array paddle as scheduled.
Under the direction of JAXA, NEC coordinated the system design, assembly, testing and integration support for Hitomi. Moreover, in addition to the design and manufacturing of the overall bus systems apart from the optical bench, NEC also conducted the design and manufacturing of on-board equipment, such as star tracker sensors and GPS receivers. NEC will continue to support initial operations for the next one and a half months, and subsequent routine operation.
Setting high-energy celestial bodies such as black holes as the target for observation, Hitomi strives to gain new knowledge of space science through X-ray observation using multiple payloads, including the micro-calorimeter detector that can measure the energy of X-rays with ultra-high resolution.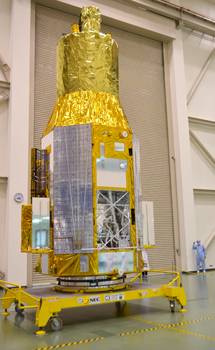 For communications networks between internal satellite equipment such as bus equipment and mission equipment, Hitomi fully adopts SpaceWire (*1) and RMAP (*2), which are the advanced data communications network standards for artificial satellites. Using these standards helps to enhance the efficiency of integration tests and improve reliability of the satellite due to the ability to create redundant configuration in a flexible manner, and achieve better operations that are capable of handling complicated operational and data processing requests.
"Since the launch of Japan's first satellite "Osumi" in 1970, NEC has worked on the development and operation for approximately 70 satellites," said Masaki Adachi, General Manager, Space Systems Division, NEC Corporation. "By utilizing our know-how and expertise obtained from these experiences, NEC is fully committed to continue supporting Hitomi's mission."
(*1)ECSS-E-ST-50-12C SpaceWire – Links, nodes, routers and network
(*2)ECSS-E-ST-50-52C SpaceWire – Remote memory access protocol
---
About X-ray Astronomy Satellite "Hitomi" (ASTRO-H)
Source: Japan Aerospace Exploration Agency
Insight into the Hot Universe – The new generation X-ray astronomy satellite
The universe appears to be cold and peaceful, but seen in X-ray, outer space is filled with turbulence in the form of explosions, collisions, and outbursts. For the purpose of advancing astronomical observations in X-rays, the next generation X-ray observatory "Hitomi" (ASTRO-H) was developed from an international collaboration including Japan and NASA. The cutting edge instrument on board is the "X-ray micro-calorimeter," which observes X-rays from space with the world's greatest spectral capability. The other 3 detectors on board allow high sensitivity observations in a wide bandwidth spanning soft X-ray to the softest Gamma-ray. "Hitomi" (ASTRO-H) will apply these new functions to investigate the mechanisms of how galaxy clusters—the largest objects in space made of "visible matter"—formed and influenced by dark energy and dark matter, to reveal the formation and evolution of supermassive black holes at the center of galaxies, and to unearth the physical laws governing extreme conditions in neutron stars and black holes.
For more details, check the ASTRO-H Official Website.