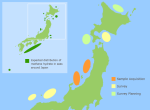 Govt samples methane hydrate from Sea of Japan
Date: Dec 25, 2014
Source: Jiji Press
The industry ministry said Thursday it has succeeded in obtaining samples of sea-bottom soil that contains methane hydrates, seen as a next-generation domestic energy source, in a survey off the country's Sea of Japan coast.
The samples are shallow-type methane hydrates, which are made after subsurface gas crystallizes near the sea bottom.
Methane hydrate is an ice-like crystalline compound of methane, a main component of natural gas, and water.
The Economy, Trade and Industry Ministry obtained the samples by mining the seabed about 100 meters from the sea bottom at three locations in waters off Niigata, Akita and Yamagata prefectures.
As a result, the ministry confirmed the existence of methane hydrate layers of up to one meter in thickness.
Starting in fiscal 2015, the ministry will conduct Japan's first large-scale sample survey to estimate the amount of total methane hydrate deposits.
In a survey of shallow-type methane hydrate deposits that started in fiscal 2013, the ministry studied areas totaling 30,000 square meters and confirmed geological structures suggesting the existence of methane hydrates at 971 locations.