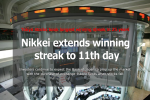 Nikkei extends winning streak to 11th day
Date: May 29, 2015
Source: Kyodo News
TOKYO (Kyodo) — The Nikkei index logged 11 straight trading days of gains on Friday, the first such winning streak since February 1988, closing at a 15-year high as investors remained confident about the performance of domestic companies.
The 225-issue Nikkei Stock Average ended up 11.69 points, or 0.06 percent, from Thursday at 20,563.15. The broader Topix index of all First Section issues on the Tokyo Stock Exchange finished 0.89 point, or 0.05 percent, higher at 1,673.65.
The Nikkei opened lower and flitted between positive and negative territory in the morning as investor sentiment was dented by losses in overseas stock markets on Thursday.
But Tokyo stocks remained supported by investor confidence in domestic companies' performance in the current fiscal year and continued strong demand from institutional investors, said Tsutomu Yamada, market analyst at kabu.com Securities Co.
Investors continue to expect the Bank of Japan to prop up the market with the purchase of exchange-traded funds when stocks fall.
The yen's weakness against the U.S. dollar also aided sentiment in Tokyo, said Hiroaki Hiwada, strategist at Toyo Securities Co.
Comments in approval of yen weakness by Economic and Fiscal Policy Minister Akira Amari during the day fuelled expectations that export-oriented issues will continue to reap the benefits.
"Foreign investors also have a great interest in Japanese stocks at the moment and this is set to grow further as listed firms take steps to enhance corporate governance," Hiwada said.
The Nikkei was helped further by gains in Asian stock markets during the day, particularly the Shanghai Composite Index, which re-entered positive territory in the early afternoon prior to Tokyo's close after plunging 6.5 percent on Thursday.
Companies with strong links to China particularly benefited, with Fanuc rising 520 yen, or 1.9 percent, to 27,540 yen.
On the First Section, advancing issues outnumbered declining ones 970 to 774, while 140 ended the day unchanged.
Major gainers included nonferrous metals, led by Mitsubishi Materials, which gained 17 yen, or 3.6 percent, to 493 yen, and Dowa Holdings, which rose 34 yen, or 3.1 percent, to 1,116 yen.
Yahoo Japan leapt 58 yen, or 11.6 percent, to 556 yen, after announcing it will team up with China's Alibaba Group Holding Ltd. on an e-commerce venture to sell Japanese goods in China. Major Alibaba stakeholder Softbank rose 83 yen, or 1.1 percent, to 7,447 yen.
Restaurant operator AP Company climbed 93 yen, or 5.3 percent, to 1,851 yen after announcing Thursday a buyback of up to 1.0 percent of its outstanding shares.
Trading volume on the main section rose to 3,291.90 million shares from Thursday's 3,119.08 million shares.