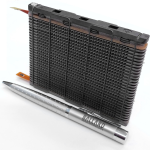 Ballard to Offer World's First PEM Fuel Cell Product Using Non Precious Metal Catalyst
Date: Sep 12, 2017
Source: Ballard Power Systems Inc.
VANCOUVER, Sept. 12, 2017 – Ballard Power Systems (NASDAQ: BLDP; TSX: BLDP) today announced that the Company has collaborated with Nisshinbo Holdings ("Nisshinbo"), an Environmental and Energy company, to develop a Non Precious Metal Catalyst (NPMC) for use in the world's first commercialized NPMC-based proton exchange membrane (PEM) fuel cell product. Nisshinbo and Ballard have jointly collaborated on the development of NPMC since 2013.
Ballard has successfully incorporated the Non Precious Metal Catalyst into a high performing catalyst layer under a Technology Solutions program and plans to launch a new 30-watt FCgen®-1040 fuel cell stack product incorporating NPMC for commercial use in late-2017.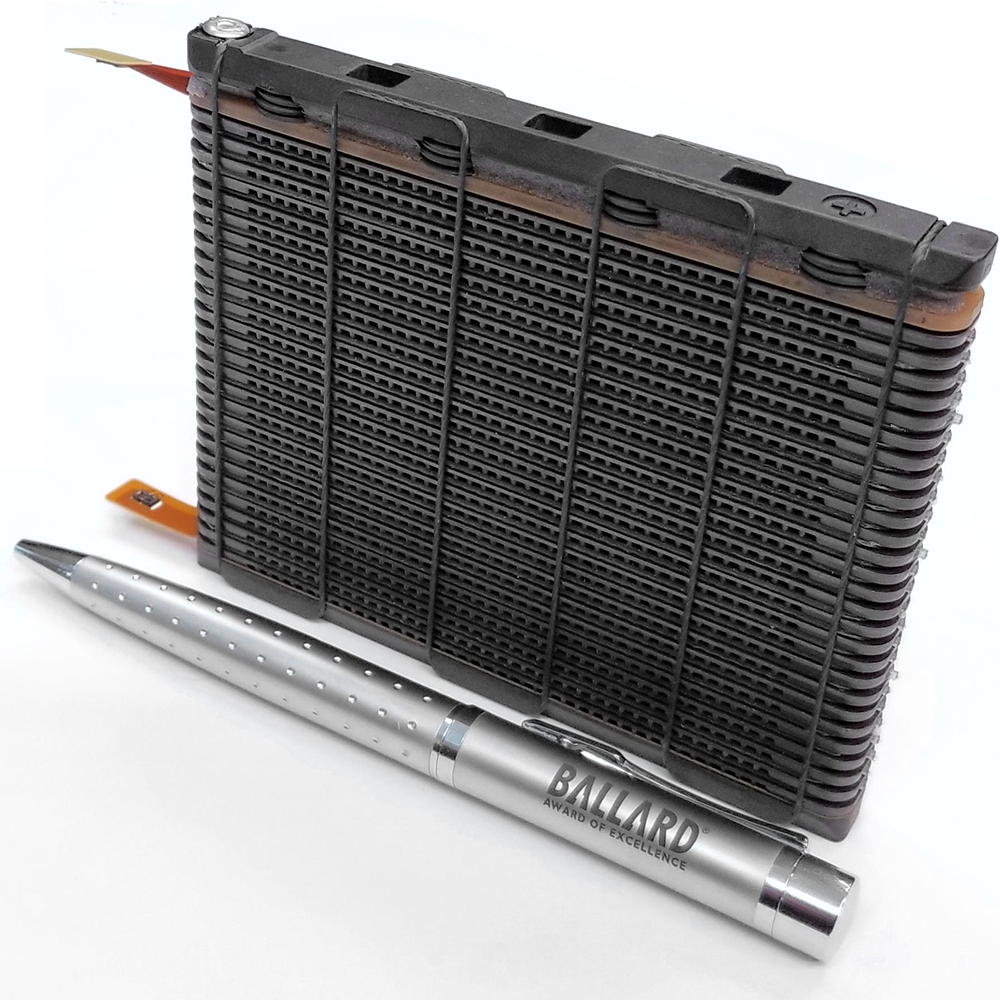 Ballard FCgen®‐1040 prototype fuel cell stack, with Non Precious Metal Catalyst (NPMC) (CNW Group/Ballard Power Systems Inc.)
The NPMC-based FCgen®-1040 fuel cell stack will be a variant of Ballard's FCgen®-micro fuel cell stack, derived from the Company's air-cooled fuel cell technology designed for integration into ultra lightweight applications.
"We are delighted that this collaboration with Nisshinbo has enabled the development of an innovative breakthrough technology to reduce the amount of platinum in an air-cooled fuel cell stack by more than 80%," said Dr. Kevin Colbow, Ballard's Vice President – Technology and Product Development. "The NPMC-based FCgen®-1040 stack represents a step-change in PEM fuel cell technology with high performance at a reduced cost. Since platinum contributes 10-to-15% of the cost of a fuel cell stack today, we are very excited about the potential cost savings NPMC technology can enable moving forward."
Dr. Colbow continued, "Based on the success of this program and the step-change in PEM fuel cell technology represented by the new Non Precious Metal Catalyst, we are interested in exploring its use for various commercial applications. The work done to date represents an important part of our Japan strategy where we are focused on breakthrough technology development with select Japanese partners as well as penetration into the Japanese hydrogen economy with strategic channel partners in key applications."
In a PEM fuel cell, the membrane electrode assembly (MEA) is formed by placing a catalyst-coated membrane between two gas diffusion layers where, until now, the catalyst has been precious platinum metal. When hydrogen gas flows across one side of the MEA and oxygen flows across the other side, an electrochemical (non-combustion) reaction occurs, splitting hydrogen into protons and electrons with the electrons captured as electricity. Combining fuel cells together to form multi-layer stacks increases the amount of electricity that can be produced.
The amount of platinum catalyst-coated material used in fuel cells, known as platinum loading, has been successfully reduced over time. Nisshinbo's Non Precious Metal Catalyst is based on a carbon alloy material which further reduces the cost of an air-cooled fuel cell stack.
Ballard and Nisshinbo jointly presented a paper entitled "Non-Precious Metal Catalysts: Cathode Catalyst Layer Design Considerations for High Performance and Stability" at the SSI-21 Conference held in Padua, Italy in June 2017. The presentation was shortlisted to receive the ISE Best Oral Presentation Award for its work showing the highest ever reported performance for a NPMC-based PEM fuel cell and the comparison to performance of a PEM fuel cell using a platinum catalyst.
Nisshinbo is an "Environmental and Energy Company" Group providing low-carbon, optimized products across a range of business lines, including chemicals, precision instruments, electronics, automotive brakes and textiles. Nisshinbo has been a long-time leading global supplier of carbon plates used in the construction of PEM fuel cells for various market applications. Nisshinbo has been a strategic supplier of compression molded bipolar flow field carbon plates to Ballard for over 20 years. In November 2015, Nisshinbo also became a strategic equity investor in Ballard.
About Ballard Power Systems
Ballard Power Systems (NASDAQ: BLDP; TSX: BLDP) provides clean energy products that reduce customer costs and risks, and helps customers solve difficult technical and business challenges in their fuel cell programs. To learn more about Ballard, please visit www.ballard.com.
This release contains forward-looking statements concerning anticipated development results and impacts on our products. These forward-looking statements reflect Ballard's current expectations as contemplated under section 27A of the Securities Act of 1933, as amended, and Section 21E of the Securities Exchange Act of 1934, as amended. Any such forward-looking statements are based on Ballard's assumptions relating to its financial forecasts and expectations regarding its product development efforts, manufacturing capacity, and market demand.
These statements involve risks and uncertainties that may cause Ballard's actual results to be materially different, including general economic and regulatory changes, detrimental reliance on third parties, successfully achieving our business plans and achieving and sustaining profitability. For a detailed discussion of these and other risk factors that could affect Ballard's future performance, please refer to Ballard's most recent Annual Information Form. Readers should not place undue reliance on Ballard's forward-looking statements and Ballard assumes no obligation to update or release any revisions to these forward looking statements, other than as required under applicable legislation.
This press release does not constitute an offer to sell or the solicitation of an offer to buy securities. The Ballard Common Shares have not been registered under the United States Securities Act of 1933, as amended, or the securities laws of any other jurisdiction and may not be offered or sold in the United States absent registration or an applicable exemption from registration requirements.