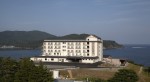 Ofunato City Unveils New Landmark
Date: Jul 23, 2014
Source: Mitsubishi Corporation
– Ofunato Onsen Hotel to give locals relaxation space and revitalize tourism product –
Local hotelier, Kairakuso, Ltd opens a new hotel in Ofunato, Iwate Prefecture on July 31. The opening of the hotel, Ofunato Onsen, is being made possible through a contribution of 50 million yen in loan funds from the Mitsubishi Corporation Disaster Relief Foundation (MCDRF). These funds complement support already being provided by The Bank of Iwate, a local financial institution.
At a mere three minutes' drive from the Sanriku Expressway's Goishi Coast Interchange, Ofunato Onsen Hotel offers a panoramic view of the Pacific Ocean. The hotel's natural hot springs, or onsen, are said to be good for neuralgia, arthritis and chronic gynecological conditions. Beyond the therapeutic value of the onsen's waters, dynamic dishes made from fresh seafood caught by the hotel owner himself, who has a commercial fishing license, is also a special feature of Ofunato Onsen. In addition, the new hotel is adopting a firewood boiler system, which makes use of locally produced wood, thereby contributing to the local forestry industry. The opening of Ofunato Onsen also creates some 30 jobs and is expected to have a ripple effect on the local economy. Aiming to host 50 thousand guests annually, the hotel also doubles as a relaxation space for local residents as well as a hub for the region's tourist industry.
MCDRF's support to Ofunato Onsen was decided on the basis of its potential to create employment and because of the contribution it will make to reviving the local economy. Three years and four months have passed since the Great East Japan Earthquake, but recovery efforts are still underway in areas that suffered severe damage. MCDRF will continue to collaborate with local financial institutions such as The Bank of Iwate to support efforts aimed at the revitalization of industry and employment creation, and overall economic recovery in areas affected by the disaster.
---
Reference Information
Name:
Ofunato Onsen Hotel
Address:
29-1, Aza Marumori, Ofunato-cho, Ofunato, Iwate, Japan
Access:
3 minutes by car from Sanriku Expressway's Goishi Coast Interchange
Google Map (Ofunato Onsen Hotel is not Listed)
Tel:
(+81) 0192-26-1717
No.of Rooms:
69 (plus 4 banquet halls)
2nd floor, 10 rooms
3rd floor, 20 rooms
4th floor, 20 rooms
5th floor, 19 rooms
No. of Guests:
230
Room Rate:
7,500 yen (About $75 USD) per night with two meals
Other:
94 parking spaces (including 10 for buses)
2 natural hot spring public baths;
2 open-air baths; 2 medicinal baths
Ofunato Area Information:
TripAdvisor