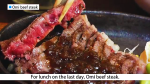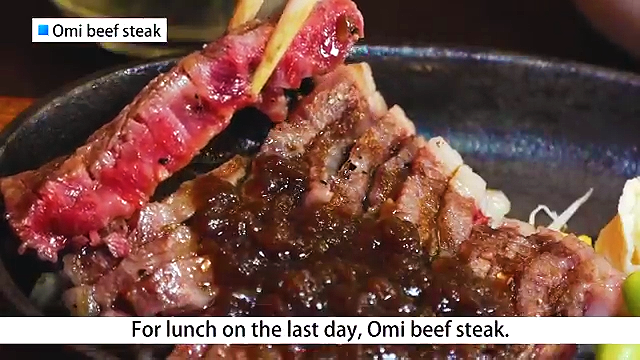 Shiga Prefecture to Release PR Video "The Premium Culinary Tour Shiga Japan" in Five Languages on March 30 to Promote Charms of Japan's Oldest Branded Beef, Omi Beef
Date: Mar. 29, 2018
Source: Shiga Prefectural Government
The Shiga Prefectural Government has produced "The Premium Culinary Tour Shiga Prefecture," a publicity video promoting the charms of Omi Beef, one of Japan's top three "Wagyu" beef brands. It is to be posted on YouTube in five languages — English, Chinese (both traditional and simplified), Korean and Thai — on Friday, March 30, 2018.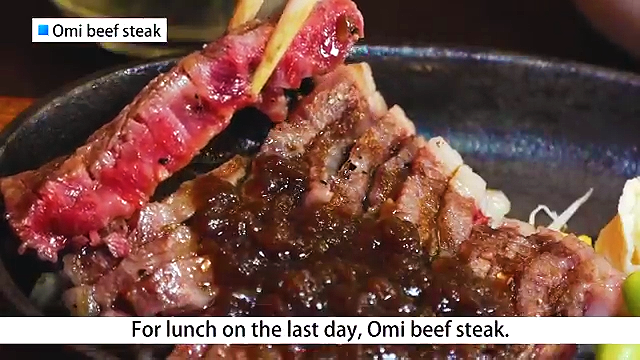 Oldest Wagyu Brand – Omi Beef In Shiga Prefecture
This video retraces an event, titled a "Journey to Fully Enjoy Omi Beef in Shiga Prefecture," which was held in December last year to promote Omi Beef and sightseeing spots in Shiga by inviting tour operators from Hong Kong and Singapore to the western Japan prefecture.
The four-day tour did not only feature all kinds of Omi Beef gourmet treats — ranging from shabu-shabu and sukiyaki hot pots to hamburg steak and beef steak — but also tourist attractions in Shiga Prefecture. They included a cruise in Lake Biwa, the largest lake in Japan; the hot spring resort of Ogoto Onsen, which has a history of nearly 1,200 years; Enryakuji Temple on Mount Hiei, part of a World Heritage site; and Hikone Castle, one of Japan's best known castles. The video contains comments by participants at the end of the tour, such as "Lake Biwa is super beautiful! I want to come here again. Omi Beef is super delicious!" and "Omi Beef shabu-shabu tasted really great!"
Omi Beef has so far been exported to Macao, Singapore, Thailand, the Philippines, Vietnam and Myanmar as well as Taiwan, which newly joined the export destination list in October last year. Shiga Prefecture has organized this fam trip targeting Hong Kong and Singapore, where wagyu draws much attention and a great number of potential buyers when compared with other economies, to create a tour combining Omi Beef and sightseeing spots in the prefecture, aiming to expand demand for inbound tourism via Kyoto, attract visitors to Shiga and boost consumption of Omi Beef.
Omi Beef: Japan's oldest branded beef
Omi Beef has its origin dating back some 400 years and its history is considered long for well-known branded beef. In these early years, eating beef in Japan was prohibited by the shogunate feudal government. But the Hikone domain, currently Shiga Prefecture, was the only region in the country that was allowed to produce beef as it presented the shogunate family with miso (soybean paste)-marinated beef as "meat for health and fitness" or, so to say, medicinal meat. In 1951, local livestock dealers, wholesalers in Tokyo and other parties concerned founded the Omi Beef Association with the aim of establishing the brand of Omi Beef and expanding its marketing channels. It was the first-ever organization in Japan to promote brand-name beef. Now Omi Beef can be called one of Japan's premium traditional beef brands.
Where to eat Omi Beef
Exquisite Omi beef cuisine can be experienced at restaurants cooked by chefs who are thoroughly familiar with the appeal of Omi beef. You can find restaurants in Japan here.
Outline of Shiga Prefecture
Shiga Prefecture, neighboring the east of Kyoto, is quite accessible from big cities — about 10 minutes from Kyoto and about 30 minutes from Osaka by train. The prefecture is full of sights to see: Lake Biwa, the largest lake in Japan with a history of about one million years; Enryakuji Temple on Mount Hiei, which is part of a World Heritage site; Hikone Castle and other spots. Shiga is also known as a prefecture of longevity with its average male lifespan being the longest in Japan.
Check Hotels, Ryokans(Inn), Hot springs and Landmarks in Shiga Prefecture