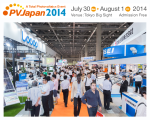 PVJapan 2014
Date: July 30(Wed) – Friday, Aug 1(Fri), 2014
Time: 10:00 – 17:00
Venue: Tokyo Big Sight (West Hall1 & Hall2), Tokyo, Japan
Organizer: JPEA (Japan Photovoltaic Energy Association)
Contact: pvj@nikkeipr.co.jp or Phone: 81.3.6812.8694
Official Website: www.jpea.gr.jp/pvj2014/english/
Entrance Fee: Free of charge, registration required.
Features of PVJapan 2014
PVJapan is organized by Japan Photovoltaic Energy Association (JPEA) which is the representative of photovoltaics industry in Japan. The largest exhibition as it specialized in photovoltaic, and various kind of seminars are very well attended every year. Photovoltaics industry has been growing rapidly for the last few years.
Not only the individual/original products, but all kinds of systems and services are developed and the market expands continuously. JPEA will provide the opportunities for your company/organization to exchange the latest information on products/technologies, market trend, and policy information at PVJapan2014.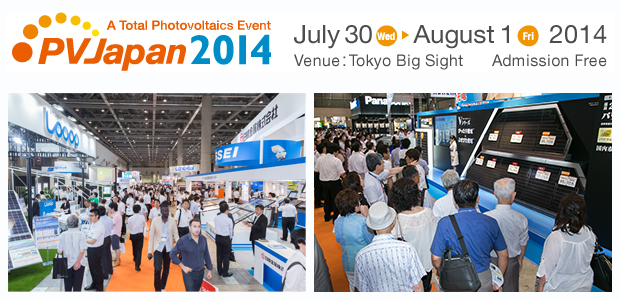 PVJapan 2013 Number of Visitors was 45,308. For more details, click here. (PDF: 9.22MB)
---
Segmentation
PVJapan has 4 segmented zones as follows,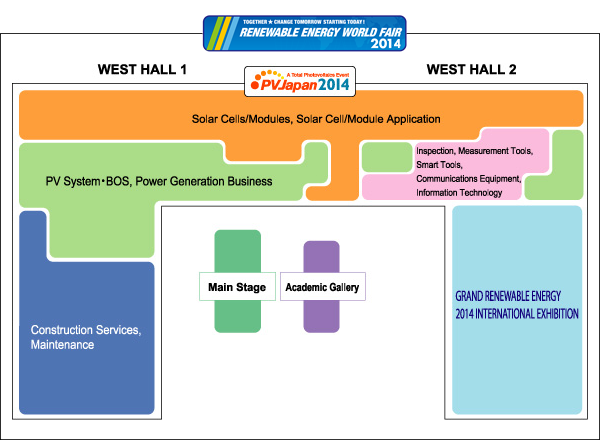 Construction Services, Maintenances
Inspection, Measurement Tools, Smart Tools, Communications Equipment, Information Technology
PV System · BOS, Power Generation Business
Solar Cells/Modules, Solar Cell/Module Application
---
Seminars & Events
PVJapan2014 has various seminars and events in order to offer information to a wide range of participants from an expert to a general person. Information from each program and the show will cover the latest technologies and trends of photovoltaic power generation system.
Programs
PVJapan Executive Forum (Admission Free)


It has been two years since the introduction of the Feed-in Tariff Scheme for Renewable Energy, and the market for photovoltaic power generation is expanding day by day. The lecturers will discuss how the industry should function and the path to follow in the future from the perspectives of the industry, government and academia.

Specialized Seminar (Admission Free)


The Specialized Seminar covers the latest trends in photovoltaic power generation in depth from the perspectives of both technology and business. Please take this opportunity to gather the latest industry information and be up-to-date.

Main Stage Seminar (Admission Free)


The seminar will offer "real up-to-date information" that will benefit actual business operations including the activities of the Japan Photovoltaic Energy Association, which is an industry association and is working to popularize PV systems.

International Operations Committee Seminar (Admission Free)


The international seminar offers information on the trends in overseas PV market and tips for endeavors to succeed in the market.

VIP Reception (Guest Only)


The reception will be attended by executives from the industry, academia and organizations associated with renewable energy including photovoltaic power generation. Please take this valuable opportunity to develop your personal network by interacting with as many guests as possible.
---
About Organizer: JPEA (Japan Photovoltaic Energy Association)
Since 1987, Japan Photovoltaic Energy Association (JPEA) has been striving for the promotion of PV and the growth of the business. JPEA membership consists of a wide range of 160 companies and organizations concerning PV business, including cell and module manufacturers, general contractors, distributors, electricity, public utility corporation, etc.