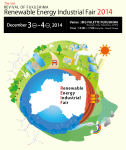 The 3rd Renewable Energy Industrial Fair 2014
Date: Dec 3(Wed)–4(Thu), 2014
Time: 10:00am-17:00pm
Venue: BIG PALLETTE FUKUSHIMA
Organizer: Fukushima Prefectural Government, FCIP
Contact: Tel +81-24-959-1961 / +81-24-959-1952
E-mail: reif-fukushima@f-open.or.jp
Official Website: reif-fukushima.jp/english2014/
Renewable Energy Industrial Fair 2014
Fukushima prefecture promotes introduction of renewable energy as one of the main measures forrevival from earthquake disasters. We will hold this fair for accumulate and promote renewable energy industries and its associates, to support business expansion entrepreneur in and out of Fukushima.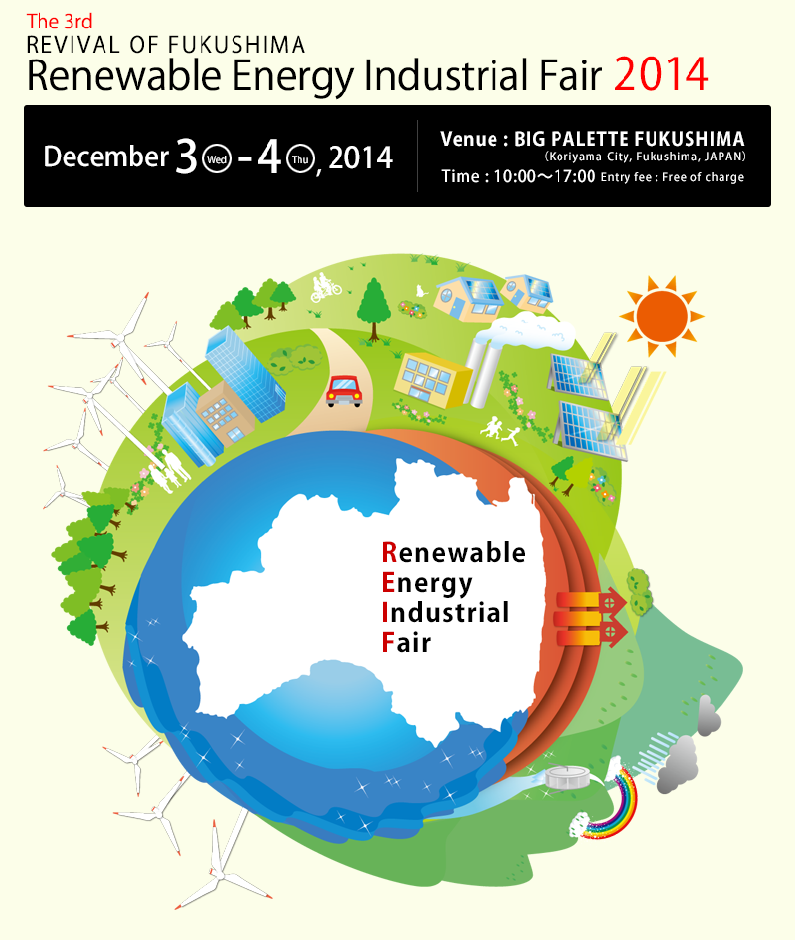 Overview
Fukushima Prefecture set a goal to greatly promote renewable energy as one of the main objectives for earthquake disaster recovery, and we are committed to fostering and assembling related industries to achieve this objective. Particularly, we set an aggressive goal to meet 100 percent or more of regional electricity needs with renewable energy by 2040, and we are striving to be a "Renewable Energy Frontier".
To be more specific, we provided support to regional firms in order to enter new industries and/or cultivate new markets by establishing a research institution composed of approximately 500 firms, universities/colleges and governmental institutions as well as hosting Renewable Energy Industrial Fair (REIF) Fukushima. The National Institute of Advanced Industrial Science and Technology (AIST) opened the Fukushima Renewable Energy Institute (FREA) this spring, which brought the expectation for related industries to be joined through active R&Ds as well as sophisticated technology.
REIF Fukushima will provide firms and institutions, who are undertaking businesses in the industries, with opportunities to exhibit technology, provide information, hold business meetings and join networking events; REIF Fukushima will demonstrate, both domestically and internationally, a strong willingness of the Fukushima region to be a "Renewable Energy Frontier".
Visitors
Firms in renewable energy and/or energy saving industries
Firms aiming for entering and/or expanding their businesses to the industries
Research institutions and/or support organizations undertaking research and development of the industries (e.g. universities/colleges)
Exhibite
Renewable energy
Energy saving
Manufacturing firms in the industries
Industry-academia-government collaboration
Other