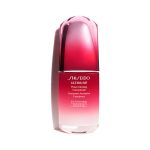 SHISEIDO Re-launches Its Hero Serum, Ultimune Power Infusing Concentrate With Global Celebrations For The #StrongSouls Within Us All
Date: Jun 02, 2018
Source: Shiseido Co., Ltd.
TOKYO, June 2, 2018 – Shiseido Co., Ltd. commemorated the re-launch of its hero serum, Ultimune Power Infusing Concentrate
with simultaneous celebrations all around the globe. Kicking off in Paris on May 31st the festivities continued in Tokyo, Hong Kong, Taipei, Bangkok and Singapore, culminating in Malibu, USA on June 1st. In partnership with internationally celebrated dance artist and choreographer, Koharu Sugawara, each event focuses on the virtue of inner strength, the confidence it instills, and the joy it brings.
With Ultimune Power Infusing Concentrate taking center stage, this series of events represents a significant milestone in SHISEIDO's brand rejuvenation journey, underpinning the brand's VISION 2020.
Shortly after its inaugural launch in 2014, Ultimune Power Infusing Concentrate cemented its status as the best-selling product in the SHISEIDO range, with one bottle sold every 13 seconds.* This game-changing serum has received over 132 beauty awards globally** – more than any other product in SHISEIDO's portfolio in the course of the brand's 145-year history. Ultimune Power Infusing Concentrate was developed with an uncompromising commitment to fortifying the skin's inner defenses, and the global #StrongSouls campaign is a motivating expression of the product's end promise. A salute to the inner strength of every individual, #StrongSouls invites each of us to embrace our own convictions, our personal power and the empathy that unites us with others, through these shared celebrations and the sense of positivity they evoke.
*Based on global sell-in data collected from January 2017–December 2017, in which 1 day is counted as 24 hours
**Total number of awards globally as of December 2017
Marrying Art with Grace and Strength
With its inspiring imagery, the #StrongSouls campaign taps into both SHISEIDO's enduring heritage as a distinguished beauty brand, and its position as a progressive voice for women. The campaign film is shaped by the dance artistry of Koharu Sugawara as she moves through the city of Tokyo. Through dance, she conveys a story of deep emotion and with calculated nuance, she draws from her own inner and outer strength to create the ultimate expression of joy and power.
Celebrate the power of inner strength and share in the joy that it brings with Koharu Sugawara
How to purchase
You can purchase their products from Amazon or Rakuten Global below.