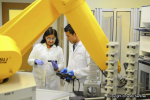 Sanford-Burnham, Japanese firm to study metabolic drugs
Date: May 20, 2014
Source: Orlando Sentinel – By Scott Powers
Scientists at Sanford-Burnham Medical Research Institute at Lake Nona are teaming up with a Japanese pharmaceutical company to develop drugs to fight the pandemic of cardiovascular-metabolic diseases that lead to heart attacks, strokes, diabetes, peripheral artery diseases and other killers.

Sanford-Burnham and Daiichi Sankyo Co. todayare announcing the new three-year research project.
The partners are not revealing the cash value of the deal, and Sanford-Burnham officials say that will be a floating number anyway, depending on where the research leads. The arrangement reflects the not-for-profit Sanford-Burnham's emerging strategy to increase commercial partnerships, focusing on "open-innovation" work that could develop all-new medical therapies, rather than researching specific potential drugs.
The partners hope to develop medicines that could help fundamentally deter metabolic disorders.
"It actually is potentially extremely lucrative [for Sanford-Burnham] because it not only provides us with research dollars and collaborations toward drug discoveries, but it also gives us a potential [commercial drug] license," said Leslie Molony, senior director of the Office of Technology Management and Commercialization at Sanford-Burnham Lake Nona.
The researchers will be screening molecules of proteins, enzymes and other biological chemicals to see which ones might be linked to metabolic disorders. Sanford-Burnham's home lab in La Jolla, Calif., also will be involved.