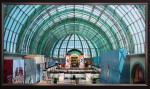 Sharp's "8K full-spec LCD Display" receives Minister of Internal Affairs and Communications Award of "CEATEC AWARD 2014" in Japan
Date: Oct 7, 2014
Source: Sharp Corporation
Sharp's "8K full-spec LCD display" exhibited at CEATEC Japan, a comprehensive annual exhibition showcasing the latest in IT and electronics from October 7 to 11, has received "Minister of Internal Affairs and Communications Award of CEATEC AWARD 2014".
CEATEC JAPAN Executive Board*1 will present the CEATEC AWARD 2014 under the exhibition theme of NEXT – Technology Makes the Future to award technologies and products on exhibit that exert outstanding potential in innovation, aiming for the further advancement of the IT and electronics industry and contribution to new market creation. Among these awards, the Minister of Internal Affairs and Communications Award will be presented to the most innovative technologies, products, and services expected to contribute to the advancement of lifestyle, society, and economic activities by the cutting-edge and innovative ICT technologies and network technologies, and is positioned as the highest ranking award in line with the Minister of Economy, Trade and Industry Award.
The awarded LCD display is the world's first*2 8K Super Hi-Vision full-spec LCD display offering pictures with overwhelming realistic sensation. The research and development of 8K Super Hi-Vision broadcast was started by Japan Broadcasting Corporation (Nippon Hoso Kyokai in Japanese, hereafter "NHK") in 1995, and is planned to start the 8K broadcast service by 2018. The 8K Super Hi-Vision broadcast, with four times the number of pixels compared to 4K broadcast, will be able to provide super-high-quality picture reproduction.
In May 2011, Sharp and NHK jointly developed the world's first*3 direct-view 85-inch LCD compatible with 8K Super Hi-Vision broadcast. Since then, Sharp has continued the development of LCD fit for 8K broadcast supported by NHK's knowledge and know-how of 8K broadcast.
Sharp will continue to strive to develop and commercialize the LCD display aiming for the start of 8K broadcasting in 2018, to realize the reality and immersiveness of the picture, providing a thrilling and sensational viewing experience.
Minister of Internal Affairs and Communications Award of CEATEC AWARD 2014
8K full-spec LCD display
*1 CEATEC JAPAN Executive Board is organized by the following 3 groups; Computer Software Association of Japan (CSAJ), Japan Electronics and Information Technology Industries Association (JEITA), Communications and Information network Association of Japan (CIAJ)
*2 as of 7 October, 2014, based on Sharp's research
*3 as of 19 May, 2011, based on Sharp's research
---
CEATEC AWARD 2014
Source: CEATEC JAPAN
Minister for Internal Affairs and Communications Award (x1): Full-Spec 8K LCD Display