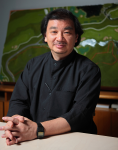 In The Face Of Disaster, Pritzker Winner Shigeru Ban Designs Solutions
Date: March 24, 2014
Source: by Joel Rose – NPR
Each year the Pritzker Architecture Prize goes to a star architect with a long list of glamorous commissions around the globe. This year's winner is a little different.
Shigeru Ban has designed museums, homes and concert halls. But Ban is best known for a more humble kind of work: The temporary structures he's built for refugees and evacuees all over the world.

Ban may be the only architect in the world who makes buildings out of paper — cardboard paper tubes, to be precise.
"It's very inexpensive. It's made of recycled paper," he says. "We can make any length, any diameter, any thickness."
Ban actually tested the strength of cardboard tubes, and says he was surprised by what he discovered. He's used them to build temporary housing for disaster victims in Japan, Haiti, China and elsewhere. Picture a log cabin — except the tubes are arranged vertically instead of horizontally. Ban says paper tubes are cheap and plentiful. And unlike costs for traditional building materials, the price of paper tubes doesn't jump after an earthquake or flood.
"After disaster, the building material is going to be more expensive," Ban explains. "But the paper tube is not building material. We can get this material easily anywhere."
The tubes are also lightweight, so you don't need heavy machinery to work with them. Ban started using paper tubes in the 1980s. He had just graduated from architecture school, and he was looking for a cheap substitute for wood. So he started reusing the cardboard tubes that were left over from rolls of paper in his office.
Tom Pritzker — chairman of the Hyatt Foundation, which sponsors the Pritzker Architecture Prize — says the thing he loves about Ban is that he works with what's right in front of him. "It's any materials that he spots. He lives his life looking at materials differently than the way you and I do," Pritzker says. "I think Shigeru looks at materials and says, hey, I can recycle that, I can use that in a way that's really needed."
Ban was born in Tokyo and studied architecture in the U.S. before moving back to Japan to start his practice. At the time, Ban says he found the profession's focus on rich clients disappointing.