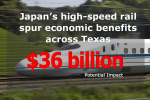 High-speed rail will spur economic benefits across Texas
Date: Oct 15, 2015
Source: Texas Central Partners, LLC
Independent study projects potential impact of more than $36 billion
All counties, cities and school districts touched by the Dallas-to-Houston route will share in the financial benefits, even before the trains begin operating
New Jobs, new tax revenue for local governments and new private developments generated by the project will create a"ripple effect across Texas"
The privately developed rail system will generate income to help the state serve Texans
Brazos Valley Station confirmed as third destination at commencement of
operations
High-Speed Trains will make the trip between Dallas/Fort Worth and Houston in less than 90 minutes
DALLAS [Oct. 15, 2015] – A privately developed high-speed rail system linking Texas' biggest metropolitan areas could produce more than $36 billion in economic benefits over the next 25 years, according to a new independent study.
The high-speed rail system will bolster local and statewide economies through direct spending, increased employment and taxes paid by the private project.
Texas Central, the company developing the high-speed train, released those and other highlights of an extensive study by Insight Research Corp. of Allen, Texas, that showed the project powering a"substantial and long-lasting" economic benefit to the state.
As part of the announcement today, Texas Central said it may pay nearly $2.5 billion in tween now and 2040 as a result of the multi-billion dollar infrastructure investment, depending on assessed values and tax rates in each taxing jurisdiction.
Texas Central also said it plans to invest more than $1 billion in Grimes County, site of a Brazos Valley Station that could attract retail and large-lot residential development.
Significant retail, residential and office developments also are expected around the Houston and Dallas station serving North Texas.
Texas Central, backed by a group of Texas-based investors, will not take federal grants for construction or public subsidies for operation. Trains will make the trip between Dallas/Fort Worth and Houston in less than 90 minutes, with a single stop at its Brazos Valley station to be in Grimes County somewhere between Bryan/College Station and Huntsville. The company reaffirms it plans to begin operations in 2021.
The estimated $36 billion in economic impact includes the initial $10 billion that Texas Central plans to spend on the project's design and construction.
The report, the most detailed look yet at the financial projections, said Texas Central's investment in more than 240-miles of track, three stations and multiple maintenance facilities along the route"will have ripple effects across the entire state economy," including:
Jobs
Texas companies will benefit directly from construction work, such as building the system and maintenance facilities, supplying materials and providing long-term support for the system. Among the findings:
The project could create an average of 10,000 jobs per year over the four years for construction, totaling more than 40,000 highly skilled jobs with competitive salaries.
Once rail operations begin, TCP estimates that it will employ about 1,000 permanent employees along the entire route, including operations and maintenance
The annual payroll is estimated at $80 million.
An additional 4,000 indirect jobs are expected to be created, thanks to anticipated spending of TCP and its employees.
Other businesses will benefit indirectly as the project brings more people into local restaurants, hotels and retail shops.
Tax revenue
Typically, passenger transportation systems such as highways and transit do not pay taxes because they are government owned and operated. For Texas Central, as a private company, most of its assets – tracks, maintenance facilities, stations – and capital expenditures are taxable. That means:
It estimates that it could pay nearly $2.5 billion in taxes to the state, counties, school districts, hospital districts and other taxing entities along the corridor between now and 2040.
That amount largely will come from property taxes and state and local sales taxes.
Every county touched by the project – both rural and urban – could receive significant, long-term tax revenue benefits from the project.
For example, the direct anticipated tax revenue Grimes County could receive from the project is estimated at more than $50 million between now and 2040.
Additional private development resulting from project
Private development – including transit-oriented development around the stations spurred by the project – is expected to generate nearly $1.9 billion in tax revenues for the state, counties, cities and school districts between now and 2040.
That's based on taxes paid by new office and housing developments, retail stores, restaurants and other businesses drawn by the high-speed rail system. For instance:
Texas Central plans to invest more than $1 billion between now and 2021 in Grimes County for track construction and a station. As a result of the investment, the Brazos Valley Station is expected to attract additional development, including new residential areas within an easy driving distance of the station.
The North Texas and Houston stations are expected to attract large new highrise office buildings, significant retail space and thousands of residential units.
Another benefit from the project is that employers and entrepreneurs in North Texas and Houston will enjoy cost savings on travel and greater productivity.
The figures in the economic study commissioned by Texas Central do not include future stations along the corridor or their adjacent development.
The economic report is the latest in a string of key announcements by Texas Central. In July, the company said it had raised $75 million from Texas-based investors, including Fort Worth investor John Kleinheinz, Dallas developer Jack Matthews and former Houston Astros owner Drayton McLane Jr. of Temple.
QUOTES
From Tim Keith, chief executive officer, Texas Central Partners
"This is an unprecedented multi-billion-dollar private investment in the state's future. The overall economic impact is incredible and it's real. The project will directly benefit each of the counties along the route and provide additional resources to the state and local communities to help fund transportation or any other needs and ambitions they choose to support."
"The economic impact is unique because it will have lasting effects for generations. Texas Central is providing tax revenue that can provide raises for municipal employees, put more teachers in schools, build new roads, hire more police and firefighters or improve facilities in all of the counties where we'll be operating."
"Texas Central's high-speed rail project will have a substantial and long-lasting positive impact on the state's economy. It not only will help alleviate growing congestion on crowded roadways but also give the state additional tax revenue for its purposes and projects."
ABOUT TEXAS CENTRAL PARTNERS
Texas Central Partners is a private, Texas-based company that will develop the highspeed passenger railway and associated facilities. Texas Central and its affiliated entities will be responsible for the system's design, finance, construction, operation and maintenance.
ABOUT INSIGHT RESEARCH CORP.
Insight Research Corp. of Allen, Texas, one of the nation's most recognized economic analysis firms, conducted the report for TCP. Insight Research has produced similar assessments for public and private clients, including for Alliance Airport in Fort Worth and for the Dallas Cowboys development in Frisco.
For more information or to arrange an interview, please visit www.texascentral.com or contact:
Sophia Reza
sophia.reza@hkstrategies.com
214-613-0230