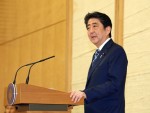 Prime Minister of Japan, Shinzo Abe, to Deliver Speech on Japan's Economy and Investment-Friendly Reforms at the NYSE on Sept. 20
Date: Sep 19, 2017
Source: NYSE
Japanese Prime Minister Shinzo Abe will visit the NYSE and deliver a keynote speech on Japan's economy and investment-friendly reforms. English translation of the speech will be available.
When:
Wednesday, September 20, 2017
Remarks begin at 9:35 a.m. followed by a Q&A session moderated by NYSE President Tom Farley.
Where:
New York Stock Exchange
Logistics:
Media Inquiries:
Please contact Judy Shaw at judy.shaw@nyse.com.
Live feed of Prime Minister Abe's remarks:
Available at 9:35 a.m. via Encompass Loop 3419.
Facebook: https://www.facebook.com/NYSE/
Twitter: https://twitter.com/NYSE
YouTube: https://www.youtube.com/user/nysetv1
Live Stream: https://livestream.com/ICENYSE/PressConferencewithPrimeMinisterAbe
Contacts:
NYSE Media Contact: Judy Shaw / judy.shaw@nyse.com