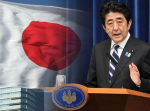 Rising inflation, output points to Japan recovery
Date: Nov 29, 2013
Source: Reuters – By Leika Kihara and Tetsushi Kajimoto
Japanese consumer inflation accelerated to a five-year high in October and a narrower price measure increased at its fastest pace in 15 years, more evidence that Prime Minister Shinzo Abe's aggressive policies are forging an escape from deflation.

Data on Friday also included encouraging signs an economic recovery was broadening and would extend into 2014, with factory output rising for a second straight month and the availability of jobs at the highest in nearly six years.
That bodes well for Abe's goal of reinvigorating the world's third-largest economy and casting off 15 years of deflation through his "Abenomics" stimulus, as rising output and demand for workers should help increase wages and spending.
RISES OUTNUMBER FALLS
The core consumer price index, which excludes prices of fresh food but includes oil products, rose 0.9 percent in October from a year earlier, matching the median estimate. That marks a fifth straight month of gains, and the biggest year-on-year growth since November 2008.
Prices of 241 products in the index rose in annual terms in October, while prices of 211 items fell. It was the first time since May 2009 that price rises outnumbered falls.
"We see price hikes spreading beyond energy and price declines shrinking with more and more goods," a government official told reporters.
POSITIVE MOVE
Industrial output rose 0.5 percent in October from September, a second straight monthly rise but below the median rise of 2.0 percent forecast by economists in a Reuters poll.
Manufacturers forecast output would rise 0.9 percent in November and 2.1 percent in December, suggesting strength in factory activity through the end of the year.
In a sign the economic upturn is gaining traction, the jobs market firmed up and household spending continued a recovery trend in October, albeit moderately.
The jobless rate held steady at 4.0 percent and the jobs-to-applicants ratio rose more than expected to 0.98 in October, its highest since December 2007, meaning nearly one job is available per job seeker, government data showed.