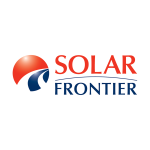 Solar Frontier Americas Completes Development Phase and Sells 28 MW of Solar Projects to Capital Dynamics
Date: Sep 12, 2017
Source: Solar Frontier Americas Development
TOKYO, Sept. 12, 2017 — Solar Frontier Americas Development, a leading U.S. solar developer and subsidiary of the world's largest CIS solar energy solutions provider, Solar Frontier, announced today it has sold two fully developed solar project sites to Capital Dynamics. Located in Fresno County, just South of San Joaquin, California, the sites combined have a planned capacity of 28 megawatts DC. Capital Dynamics, a Swiss-based asset management company investing in private equity and clean energy infrastructure, plans to execute construction on the projects. The projects are packaged with permits and power purchase agreements (PPA) with Pacific Gas & Electric.
Charles Pimentel, CEO of Solar Frontier Americas Development said, "Solar Frontier continues to grow its development organization and deliver world-class, utility-scale solar projects. We are pleased to close the sale of these California projects and expand our relationship with one of the leading clean energy infrastructure firms, Capital Dynamics."
"Solar Frontier Americas Development has delivered well-executed solar sites that we plan to progress into construction in the next quarter. Our team has successfully acquired 14 solar portfolios to date and we look forward to completing construction on these projects in Fresno County," said John Breckenridge, Head of Capital Dynamics Clean Energy Infrastructure. "We are excited to bring the local community clean, renewable energy and contribute to helping the national solar leader, the state of California, move closer to its impressive renewable energy goal of 50% by 2030."
About Solar Frontier Americas Development
Solar Frontier Americas Development, a subsidiary of Solar Frontier (a global energy solutions company), develops and sells high performing, utility-scale photovoltaic plants in the United States and Latin America. Headquartered in San Francisco, California, the development team partners with solar system component suppliers, EPCs, and other developers to deliver optimized, high-yield solar plants that both economically and ecologically help meet the clean energy needs of today.