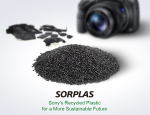 Sony commences external sales of SORPLAS™ flame-retardant recycled plastic material that achieves high durability and heat resistance, and comprises up to 99% recycled content
Date: Aug 4, 2014
Source: Sony Corporation
Tokyo, Japan — August 4, 2014 – Sony Corporation ("Sony") today announced that from the beginning of October 2014, it will commence selling its flame-retardant recycled plastic, SORPLAS™ (Sustainable Oriented Recycled Plastic) outside the Sony Group, and will offer this product to a wide variety of manufacturing business operators such as consumer electronics retailers, both within Japan and abroad.

SORPLAS is flame-retardant recycled plastic comprising polycarbonate plastic recycled from materials such as optical discs from discarded DVDs and optical sheets (light-diffusing films) used in LCD televisions. These recycled materials use Sony's own unique sulfur-based flame retardant to achieve a highly durable, highly heat-resistant plastic that uses up to 99% recycled materials.*1 Sony first put SORPLAS to practical use in 2011, adopting the material in its BRAVIA™ series of LCD televisions. Since then, SORPLAS has been incorporated into a wide variety of Sony products. Now, Sony plans to offer this material to various organizations outside the Sony Group, with the objective of contributing to society by promoting the reuse of resources and reducing environmental impact.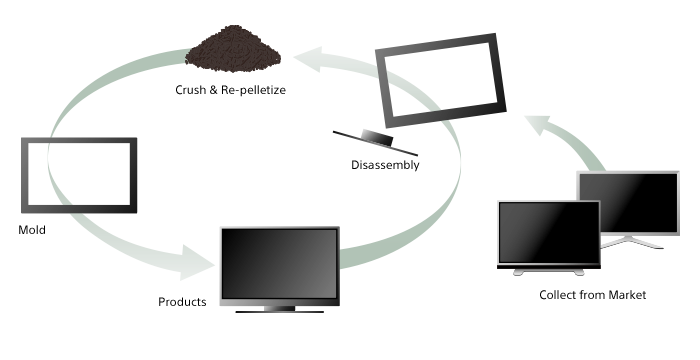 Superior Recyclability: The parts made from SORPLAS™ can be recycled several times.
Conventionally, scrap polycarbonate plastic disposed of at manufacturing and other facilities has been reused by adding large amounts of new polycarbonate plastic and flame retardant. This additional process is to satisfy the flame resistance and strength requirements of consumer electronics products. (Generally speaking, regular flame-retardant recycled polycarbonate plastic contains around 55% added new polycarbonate plastic and approximately 15% flame retardant*2.) SORPLAS incorporates Sony's own unique sulfur-based flame retardant, which achieves flame resistance equivalent to conventional flame retardant but with only the tiniest amount added – less than 1 per cent overall (or less than one-tenth of conventional flame retardant weight*3). This allows the properties of polycarbonate plastic to be retained. Furthermore, a high proportion of recycled materials can be used as a result, while still achieving enhanced durability and thermal resistance than conventional flame-retardant polycarbonate plastic. Even when the material is recycled repeatedly or used in severe environments, the properties can successfully be retained. In addition, CO2 emissions can be dramatically reduced because only a very small amount of new polycarbonate plastic and flame retardant needs to be added, which helps contribute to a lower environmental impact.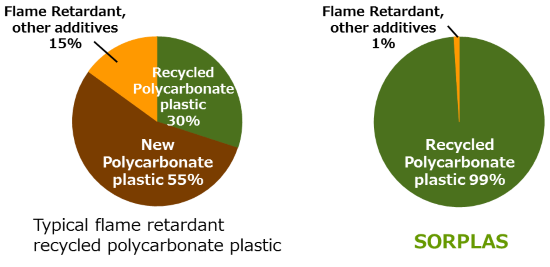 Achieves up to 99% recycled materials
On this occasion, three varieties of SORPLAS with distinct properties have been developed to suit the specific requirements of a variety of products, encompassing multiple types of scrap polycarbonate plastic and modified blend ratios of various additives.
High good moldability type "SPL-EC30": Good moldability and easy to mold
High impact type "SPL-EC50": Resistant to high impacts
Thin, flame-retardant type "SPL-R20T": Thin and difficult to burn
Sony aims to promote the recycling of resources and contribute to a lower environmental impact on society by widely offering these varieties of SORPLAS outside the Sony Group, at approximately the same price as conventional flame-retardant polycarbonate plastic.

*1: The amount of recycled content changes depending on the application.
*2: Based on Sony research, current at the time of this release on August 4, 2014.
*3: Comparison with typical flame retardant polycarbonate plastic containing phosphorus flame retardant.