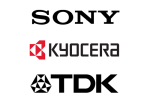 Sony breaking into automotive image sensor market
Date: Aug 15, 2014
Source: Nikkei
TOKYO — Sony plans to offer image sensors for automotive cameras, aiming to tap a new growth market amid the drive toward smart cars and driverless vehicles.
The company has developed a sensor 10 times as sensitive to light as existing chips, allowing for easier detection of objects in dark environments. The sensor can provide a color display of the surrounding area even in moonlight, enabling it to detect obstacles more readily than a driver can.
Sony will start mass-producing the sensor through a chipmaking subsidiary and begin sales to automotive equipment manufacturers in the latter half of 2015. The component is expected to find its way into car-mounted devices in 2016.
As the number of image sensors per car rises, demand is growing for components that boost the processing power of onboard computers. TDK plans to effectively double sales of components that improve efficiency and protect against glitches to 40 million units a month. A single smart car is expected to require dozens of these parts.
Kyocera aims to lift sales of automotive products to 300 billion yen ($2.89 billion) in fiscal 2016, double last fiscal year's figure.
A wide range of companies are getting involved in smart cars. Google is working with Japanese automakers, including Honda Motor, to develop onboard systems and has been conducting research on technology for self-driving vehicles on its own. Nissan Motor plans to commercialize driverless cars by 2020.
In industrialized countries, where the new-car market is unlikely to see much more growth, automakers have been working to add value by integrating IT into their vehicles.