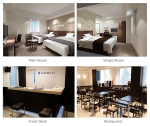 Fukushima Hotelier's Commitment to Local Business Gets Support – Juichiya Company's Sunrise Inn Iwaki Opens in Iwaki City on August 19 –
Date: Aug 18, 2014
Source: Mitsubishi Corporation Disaster Relief Foundation
Local hotelier, Juichiya Company Ltd., opens the doors of Sunrise Inn Iwaki to guests on Tuesday August 19. The opening of this brand new accommodation in Iwaki City, Fukushima Prefecture is being made possible through 50 million yen in loan support from the Mitsubishi Corporation Disaster Relief Foundation (MCDRF). These funds complement support already being provided by Abukuma Shinkin Bank, a local financial institution.
Juichiya's Sunrise Inn Tomioka, located in the town of Tomioka in the Futaba district of coastal Fukushima, was forced to close its doors as a result of events that followed the Great East Japan Earthquake of 2011. Under existing circumstances, reopening Sunrise Inn Tomioka at the same location is unlikely, but the company has always maintained a strong will to reestablish its hospitality business somewhere in Fukushima. The new hotel, relocated to a site in Iwaki, further south along the Fukushima coast, is housed in a nine-storey building with 71 guest rooms, and keeps part of its heritage in its new name – Sunrise Inn Iwaki.
Geared towards business travelers, Sunrise Inn Iwaki isa five-minute walk from Iwaki Station on the JR Joban Line and is complete with conference rooms and internet access. Breakfast includes freshly baked bread, and guests may also avail themselves of the hotel's large public bath, making it a convenient stop for leisure travelers as well. The new hotel will hire 19 new staff, including the rehire of three employees from the former hotel. Juichi is aiming to attract some 20 thousand guests annually and reach 130 million yen per year in sales over the next two years.
MCDRF commends Juichi's commitment to reestablishing its business in Fukushima and decided to support Sunrise Inn Iwaki because of the contribution it will make to generating employment and reviving the local economy in Iwaki. Three years and five months have passed since the Great East Japan Earthquake, but recovery efforts in areas that suffered severe damage are far from over. MCDRF intends to continue collaborating with local financial institutions such as Abukuma shinkin Bank to support efforts aimed at the revitalization of industry and employment creation, and overall economic recovery in areas affected by the disaster.
---
Reference Information
Name:
Sunrise Inn Iwaki
Address:
Jūgochōme-20-3 Taira, Iwaki-shi, Fukushima-ken, Japan 970-8026
Google Map
Access:
5 minutes walk from Iwaki Station on the JR Joban Line
Tel:
(+81) 246-88-8533
No. of Rooms:
71
Single Room, 51 rooms
Double Room, 7 rooms
Twin Room, 12 rooms
Disabled Room, 1 room
No. of Guests:
90
Room Rate:
7,000 yen (About $70 USD) per night with one meal
Other:
33 parking spaces, Large public bath, Computer Room, Coin Laundry
Website:
www.sunrise-iwaki.com
Iwaki Area Information:
TripAdvisor