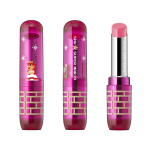 Super Mario cosmetics are coming to Japan – seriously
Date: July 21, 2017
Source: The Next Web – by RACHEL KASER
Japanese cosmetics maker Shu Uemura recently revealed a holiday beauty line patterned after — of all things — the Super Mario Bros games. It's the crossover you never wanted and never expected, and it'll be out in Japan in November.
According to Kakuyasu Uchiide, Shu's artistic director, the connection between the two brands is based in … well, I'm not sure exactly:
This collection is not so much about creating, but it is about playing. I want people to be able to play with their individual style. I really want to show what is our spirit, our DNA, our creativity. That's the only way to realize what Mr. Uemura wanted to do, which was to strive to link art with cosmetics, to link art with beauty.
The line doesn't exactly look like anything Mario-related, other than the designs on the packaging. The eyeliner has a stamp on the end which looks star-shaped, and I suppose a few of the eyeshadow shades could recall the bright colors of Mario's earliest outings — but it could just as easily be inspired by anything else under the sun.
Shu Uemura + Super Mario Brothers Collection